Clark DeHart knows exactly what he wants to do once he graduates from Virginia Tech.
DeHart of Blacksburg, who will graduate Friday with a bachelor's degree in wildlife science from the College of Natural Resources and Environment, says he wants to pursue a career in wildlife conservation filmmaking to promote conservation and environmental education.
And when you consider the preparation he's received in the classroom and the experience he's enjoyed co-host of Aqua Kids, an award-winning television series that inspires young people to take an active role in protecting and preserving marine environments, one would have to say he's well on his way to achieving his goal.
"We're not actors, just concerned kids," said DeHart who believes that his generation, like none other in history, has both the responsibility and the resources to leave the legacy of a healthier, more sustainable planet.
DeHart got his start on television through an introduction from Jean Beasley, founder and director of the Karen Beasley Sea Turtle Rescue and Rehabilitation Center in Topsail, N.C.
"I'd always been interested in filmmaking," said DeHart, who was visiting the turtle hospital to shoot footage for a documentary on sea turtles. Aqua Kids happened to be filming there at the same time.
Shortly after that encounter, the show's producer George Stover invited DeHart to join the cast.
Focused on motivating children to protect the marine environment through interaction and involvement, the show seeks to present an optimistic and constructive tone.
"It's easy to highlight the negatives," said DeHart, who received a Telly for his co-hosting and videography of an Aqua Kids episode this past season.. "We focus on the positives."
After airing an episode on trash and the chain of littering in the Chesapeake Bay, young students from across the country wrote to the cast and crew about organizing all types of events—from beach cleanups to schoolyard recycling drives.
DeHart stressed the importance of these events. "It's the little things. The impact adds up. And this show allows me to be a part of that change."
Along the way, the show has given DeHart a chance to experience some amazing locales. Episodes have been shot across the United States, from up and down the east coast, to Hawaii and Alaska.
And while DeHart enjoyed these trips, they have not all been leisurely experiences. For the past eight years, DeHart has suffered from chronic fatigue syndrome, a debilitating medical condition characterized by persistent fatigue that does not improve with rest. Its causes are still being studied, and no cure for the condition currently exists.
Despite that challenge, DeHart remains positive and brings that attitude to all his experiences including those at Virginia Tech. For the past year, he has served as the president of the Virginia Tech student chapter of The Wildlife Society and has worked to inspire other Virginia Tech students to get involved in protecting the environment.
This summer, DeHart completed his last season with Aqua Kids after a three year run with the show. In a fitting ending to his time with the show, he hosted one of his last episodes at the place where he got his start—the Karen Beasley Sea Turtle Rescue and Rehabilitation Center.
After graduation, DeHart hopes to continue to motivate his peers. "With my condition there has always been uncertainty, but wildlife conservation has given me something to focus on and be passionate about," he said. "I hope that my personal victory inspires others to find their defining experience."
Written by Drew Knapp.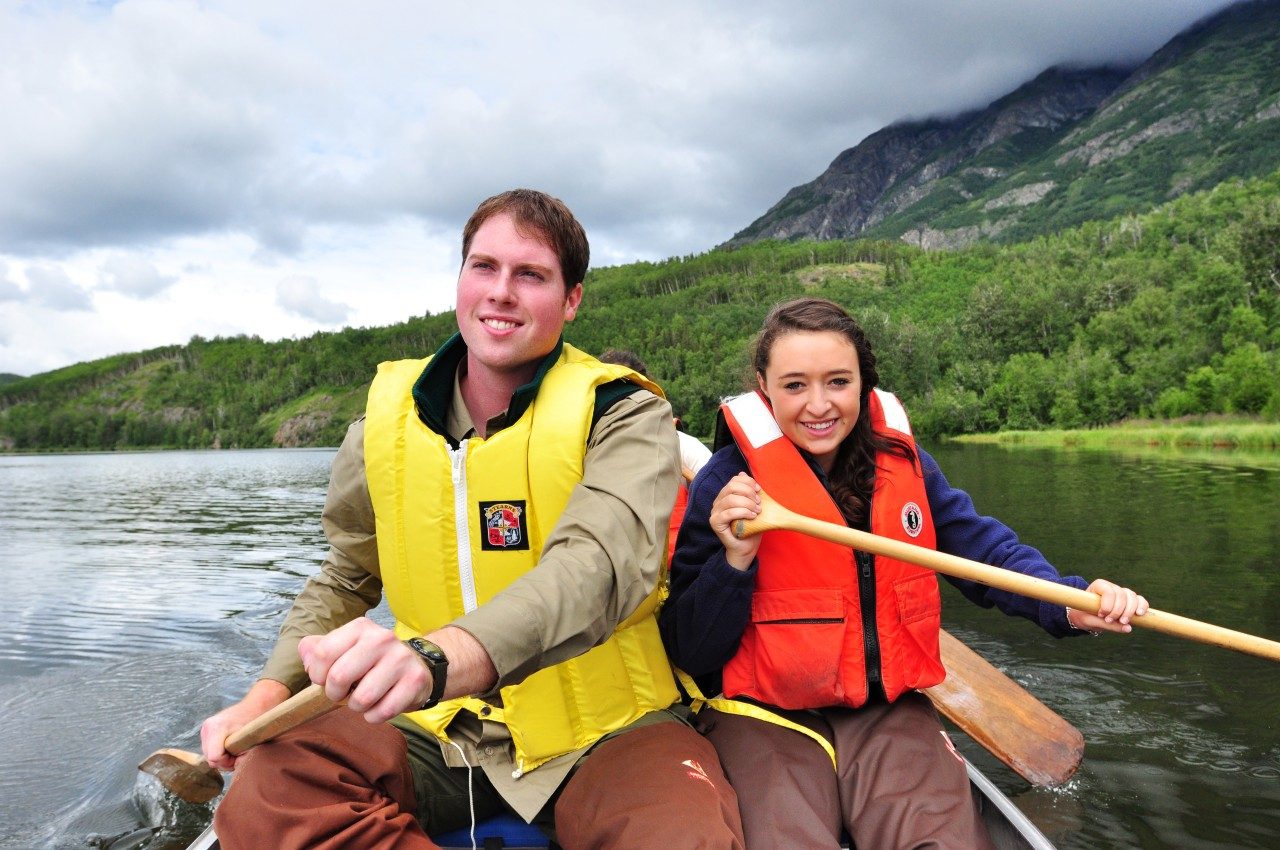 Inspiring others
Clark DeHart and his co-host Katie Mulligan take to the water in an episode of Aqua Kids, a nationally syndicated television program focused on motivating children to protect marine environments. Photo courtesy of Johnny Slaughter.