"The very basic core of a man's living spirit is his passion for adventure. The joy of life comes from our encounters with new experiences, and hence there is no greater joy than to have an endlessly changing horizon, for each day to have a new and different sun," John Krakauer said in his book "Into the Wild."
Those insights are ringing true for 28 Virginia Tech University Honors students who are participating in the Presidential Global Scholars program this semester. Since January, the students have lived in the university's villa in Riva San Vitale, Switzerland, while taking trips through Europe as well as an upcoming trip to Ghana, Africa. Award-winning professors from across the Virginia Tech campus spend one to three weeks with the students over the semester abroad.
"Solitary moments atop the Areopagus in Athens, in a room of Renoir, Boticcelli, and Da Vinci paintings, or on the 18th hole of the Old Course at St. Andrews Links have been incredibly powerful to me," Tim Duffy of Andover, Mass., a junior majoring in finance and accounting in the Pamplin College of Business said. "The gravity of the President Global Scholars experience hits me at these times; there is something quite surreal and inspirational about interacting so intimately with history."
Emily Blair of Fort Chiswell, Va., a sophomore majoring in English and history in the College of Liberal Arts and Human Sciences agreed. "On a street corner in Milan on a Sunday, a quiet street corner, I was overwhelmed by the fact that I was in Italy, the place of my ancestors, where my family and I had always daydreamed about traveling to one day. The surreality of these moments is hard to capture in words and nearly impossible to portray in pictures, but they stick out to me more than anything else thus far."
Before leaving for Europe, Blair and Duffy both were not sure what to expect other than change within themselves, a realization that is already coming to fruition.
"This experience has shaped how I see the world and my place in it," Blair said. "I have gone into each experience with only the skeleton of a plan that has often changed, and enjoyed every moment of it – something I never expected that I could be capable of when I left home."
"I think the most striking change has involved the way that I react to and think about issues, problems, and controversy," Duffy explained. "I find that I form opinions far more cautiously and give more consideration to the implications of my decisions. Being in close proximity to different cultures has forced me to notice differences in norms and values, and has made me less apt to generalize and make uninformed assumptions."
For those who study abroad, one of the biggest adjustments is learning about and adapting to different cultures – becoming a global citizen, a pinnacle of the Presidential Global Scholars program.
While calling the cultural shock "extreme," Blair has found reassurance in experiencing a variety of cultures. "The lives of people around the world are varied and vibrant. So far, this experience has shown me that no matter where you roam, people will be people," Blair said. "During the only big snowstorm since we arrived, I was romanticizing the snow falling on the Alps, only to witness a little boy shoving his brother's face into a snow bank right in front of me. Elderly gentlemen hold doors open for me. Teenage store clerks snap their gum and look like they would rather be anywhere else. Switzerland, Italy, Greece, Germany, Ireland, the UK, Ghana – people remain people, and I find that overwhelmingly comforting and heartening."
For now, the participants are making the most of their remaining time in the program, living and experiencing new cultures, before they return home in May.
"Every experience I have contributes to this living mosaic of perspectives and insight, and every day is an opportunity to make this mosaic more vivid," Duffy said. "I hope to continue collecting this eclectic array of cultural moments, deepening my understanding of Europe and the world around me."
Students are maintaining blogs on their experience, including Blair and Duffy. In addition, Virginia Tech News will follow-up with Blair and Duffy when the students return to complete a three-part story series (Read pre-trip story).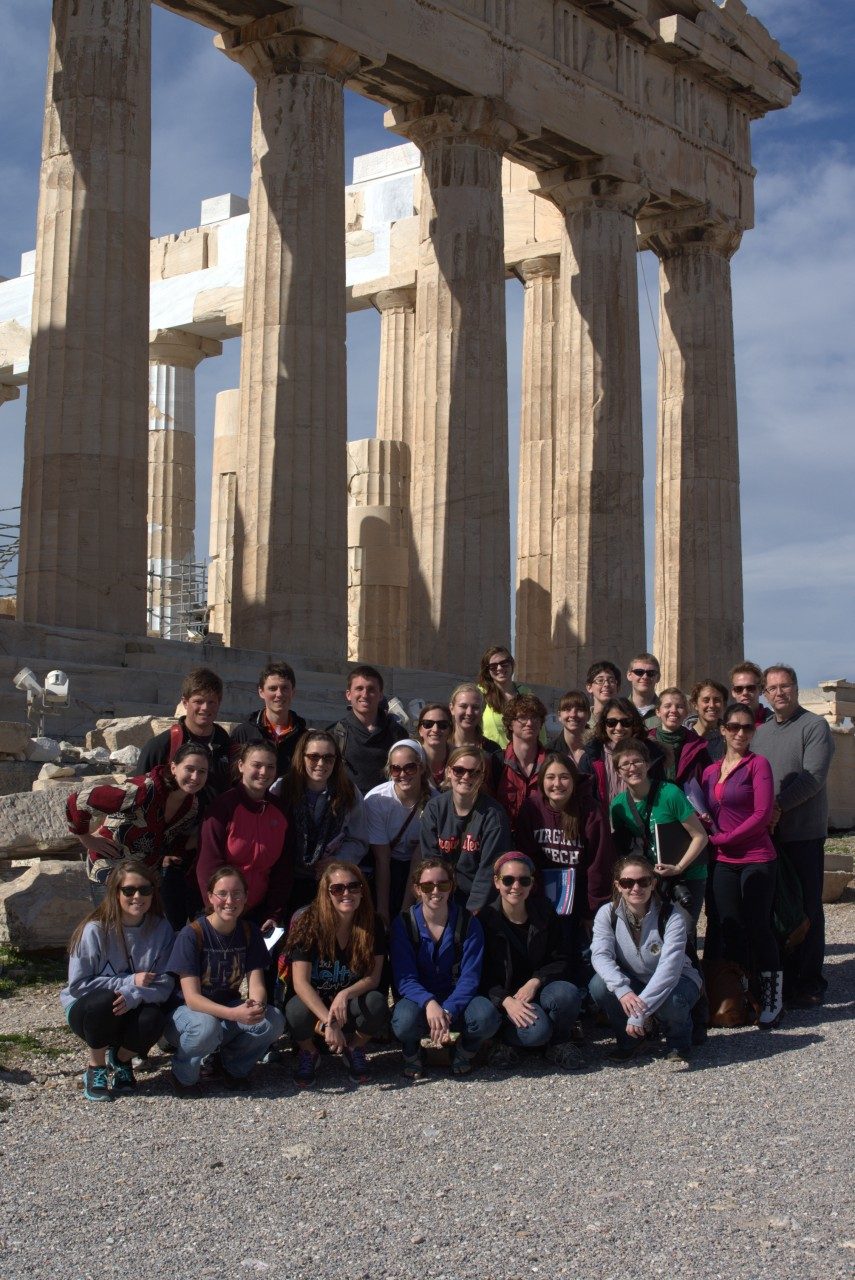 2013 Presidential Global Scholars
The 28 student participants and Director of University Honors Terry Papillon pose at the Parthenon in Athens, Greece.