It was laundry detergent bubbles that started Roe-Hoan Yoon on a productive 35-plus-year career of engineering research into clean coal technology, highlighted by groundbreaking work in chemistry science and a desire to balance the safety of the environment with energy usage and job creation.
It was during a mid-1960s high school chemistry class in Yoon's native South Korea that a teacher used chalkboard drawings to explain how detergents remove dirt from clothes. Yoon was hooked. "A teenager's fascination still lives in me," he now says, looking back at a career that started as a research engineer in Korea Institute of Science and Technology. There also were secondary reasons for his initial interest in engineering: It paid well and was highly honorable, important job traits in a country shaken by war. "At the time the country was poor," Yoon said. "Engineering was a more desirable opportunity."
Now, 31 years after joining the Virginia Tech College of Engineering's mining and minerals engineering department, Yoon has been named a University Distinguished Professor by the Virginia Tech Board of Visitors. The Nicholas T. Camicia Professorship of Mining and Minerals Engineering, Yoon is being honored "for the significant contributions he has made to the science and technology of mineral processing," according to the university.
Accolades
His research funding has generated more than $40 million for the university. He has helped shepherd some more than 30 doctoral students and 25 master's students to their respective degrees. Twelve of those doctoral students have followed in his footsteps to become university professors throughout the world. He is a member of the National Academy of Engineering and has been honored multiple times by the Society for Mining, Metallurgy and Exploration. He holds a bachelor's degree in engineering from Seoul National University, and master's and doctors degrees in metallurgical engineering from McGill University in Quebec, Canada.
"As dean, I can still recall my interview with Roe-Hoan, then a young prospective assistant professor," said Paul Torgersen, former president of Virginia Tech and former dean of the College of Engineering, in his nomination letter of Yoon to receive the Distinguished Professorship Award. "He clearly understood what was expected. Now, 30 years later, his curriculum vitae and recent election to the National Academy of Engineering is evidence of just how clearly he understood our objectives."
Added Greg Adel, current head of the department of mining and minerals engineering: "There are few in the field today who have contributed in such a major way to both scientific understanding and technology development. Clearly, he epitomizes what this appointment was established to honor."
Yoon serves as director of the Center for Advanced Separation Technologies, a consortium that includes Virginia Tech, West Virginia University, University of Kentucky, Montana Tech, and the University of Utah. Its goal is to develop advanced separation technologies that can be used to produce clean solid, liquid, and gaseous fuels from domestic energy resources in an efficient and environmentally acceptable manner. The center has funded 84 projects at seven universities, with $17.5 million in funding coming from the U.S. Department of Energy.
Technology breakthroughs
Yoon's interest in detergent and bubbles brought him early success. In 1980, Yoon and a Virginia Tech research team developed a technology that uses small air bubbles -- microbubbles -- to produce clean coal from the coal fines discarded to waste ponds. The U.S. Department of Energy-funded project resulted in the successful commercial technology known as MicrocelTM. Then groundbreaking, Yoon's basic concept of using small air bubbles to separate fine particles since has become widely used in the flotation industry worldwide.
His clean coal technology and related spin-offs have not only been used in the United States, but also in countries such as Australia, China, and India in their own efforts to use cleaner coal and reduce greenhouse gas emissions. Yoon also has testified several times about clean coal technologies before Congress and, more locally, the West Virginia State Legislature.
More recent success came with a new technology known as a hyperbaric centrifuge that removes water from ultra-fine coal slurries using an innovative design. The new equipment, developed during the past several years by Yoon and his colleagues, was successfully tested at the commercial scale in a coal cleaning plant. The process can help coal companies stop discarding coal fines to slurry impoundments  It is estimated that anywhere from 70 to 90 million tons of fine coal refuse is discarded annually to the numerous impoundments scattered across the Appalachian coal field. The main reason for this practice was the difficulty in dewatering ultrafine coal, Yoon said.
With that major success behind him, Yoon already has moved onto developing still more ways to make the most of discarded water-soaked ultrafine coal. Now undergoing a patenting process and still in a lab-scale testing stage is a process known as non-thermal coal drying technology that can produce dry coal without applying heat to the coal. The conventional way to dry coal is to boil off the water at high temperatures, which is costly and can create a large ecological footprint in the form of greenhouse gases, namely carbon dioxide, Yoon said.
"An estimated 3 billion to 4 billion tons of coal sludge lays in the numerous impoundments in Appalachia and beyond untapped," Yoon said. Of that, he estimated that approximately 1 billion tons could be recovered, creating billions of dollars in revenue and also numerous jobs in the region. Yoon, mindful of balancing environmental concerns with economic development, said that his research group plans to find ways to treat the water in the impoundments before reuse in mining operations or being released to the environment.
"I call it a treasure box," Yoon said of the existing impoundments. "We want to develop clean coal technology that is acceptable to everyone, and a product that is good for the environment and the economy."
A company already is interested in licensing the new technology from Virginia Tech, Yoon said.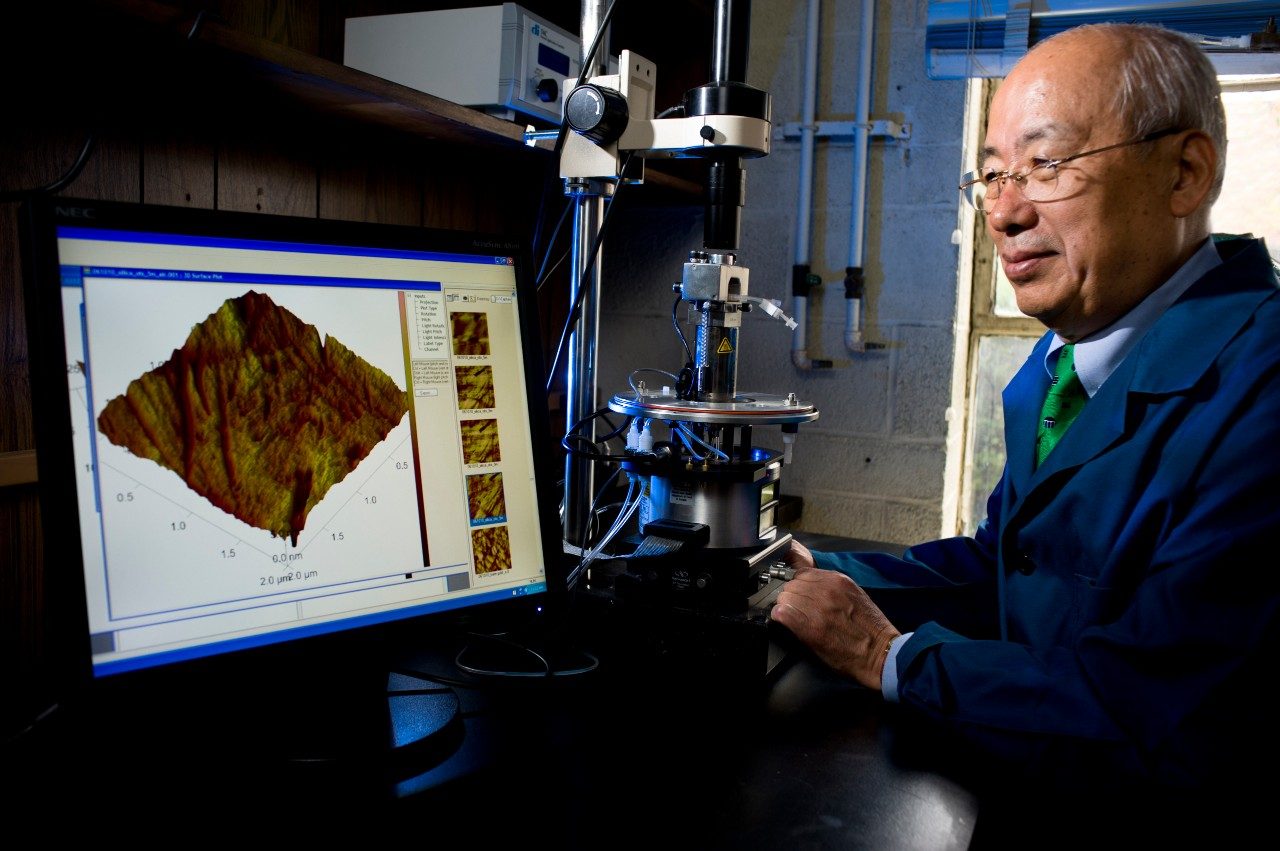 Roe-Hoan Yoon in lab
Roe-Hoan Yoon, the Nicholas T. Camicia Professor of Mining and Minerals Engineering, is using an atomic force microscope, used here to look at the surface morphology of an object.