Category:
impact
Sawdust and supercars
Students experience a thriving industry during the inaugural Manufacturing Institute trip.
Amid the whirling buzz of saw blades, the beeping alerts from reversing forklifts, and the butterscotch smell of fresh-cut yellow pines at Morgan Lumber Co., Virginia Tech students participating in the inaugural Manufacturing Institute trip discovered that manufacturing is thriving in Virginia.
It was a message reinforced on the floor of TMI AutoTech Inc., an owner-operated car manufacturing facility that builds – by hand – about 30 Ariel Atom sportscars and Ariel Nomad trail vehicles each year while also manufacturing custom vehicle components on an immaculate floor.
And if that wasn't enough, the group visited a stave mill and bourbon cooperage, a glass manufacturing plant, and two packaging companies tackling challenges in the transport and handling of goods. Students also visited the robotics-filled Commonwealth Center for Advanced Manufacturing as well as a Volvo truck plant where workers and machines built trucks on a world-class state-of-the-art assembly line only a short distance from Blacksburg.
The College of Natural Resources and Environment's Manufacturing Institute is a program that introduces students to the manufacturing sector through extracurricular programs that foster engagement opportunities with industry leaders across all sectors. The culmination of the program is a weeklong tour of diverse manufacturing companies and environments in Virginia.
"Our goal with this trip is to help develop an awareness of and appreciation for the manufacturing industry," said Professor Robert Bush of the Department of Sustainable Biomaterials. "Many students don't think of manufacturing as a path that offers opportunities, but there are companies in the region that are booming right now, and our graduates are finding terrific careers in these industries."
Ten students participated in the trip, which took place over the spring break week. Traveling in vans and staying in hotels, students had the opportunity to see firsthand both traditional and state-of-the-art manufacturing processes.
"One of the highlights overall was how close and hands-on we were getting not only to the manufacturing processes, but to the people who guide and lead those processes," said Alonda Johnson, a senior from Newport News who is majoring in packaging systems and design. "I've been on a lot of trips where you get a broad view of what's happening, but on this trip,  we got to know things on a deeper level."
To ensure access for all students, the trip was free thanks to generous funding from the WAY Foundation, which aims to support and provide resources for community engagement and learning.
"Steve Yelland and the WAY Foundation are making a real impact on our college," said Dean Paul Winistorfer. "The foundation funded this initiative, and they have been strong supporters of our college's student Leadership Institute. Serving on my Dean's Advisory Council, Steve has shown a strong commitment to our students and our programs."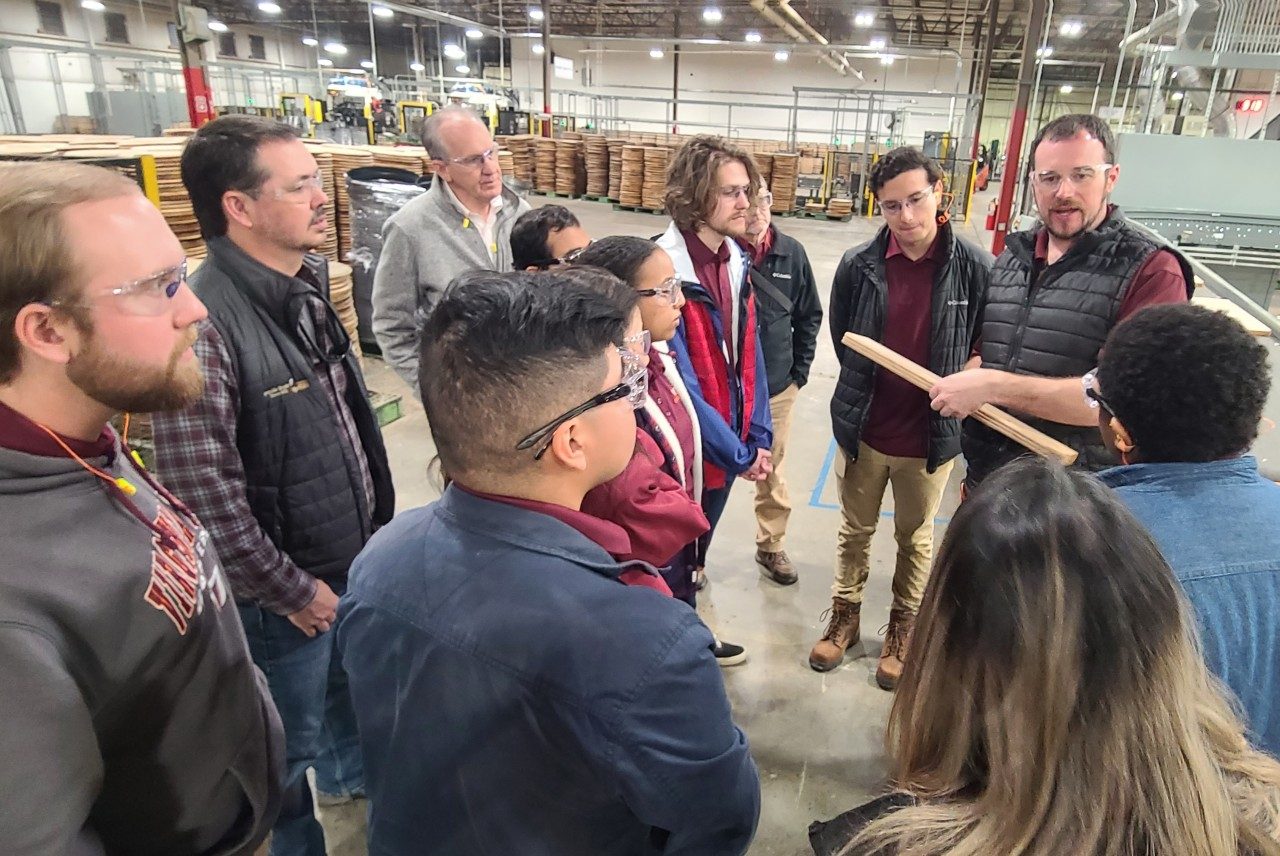 Students and Dean Paul Winistorfer (third from left) learn about the science and technology that goes into making bourbon barrels with Speyside Bourbon Cooperage Inc. Manager Josh Chandler '10, M.S. '11 (second from right). Photo by John Freeborn for Virginia Tech.
An industry of interconnection
Bush, who teaches students about  marketing and business functions related to forest products and packaging, said he wasn't sure how students would react to the range of manufacturing companies to which they traveled.
"Going in, I admit that I was a little worried about how the students would react to some of the more traditional industrial operations we visited," said Bush. "We toured several places that had cutting edge manufacturing equipment, and I was worried about how the students would respond to going from those places to more traditional industries such as glass manufacturing and sawmilling. But they love the more industrial operations."
Winistorfer, who joined the group on a portion of the trip, was particularly impressed by the incorporation of high-end technology in the wood products industries.
"The sawmill we visited is the most advanced mill in the state and is nearly fully automated," said Winistorfer, whose research background is in wood science and forest products. "From scanning, artificial intelligence, and materials handling equipment, a lot of what we saw mirrored the technology that is in other manufacturing industries."
Johnson, who will be attending graduate school in packaging at Michigan State University in the fall, echoed that there was often a sharp contrast between the places the students visited.
"Visiting TMI AutoTech, where they make high-end sports cars, was cool because it showed manufacturing isn't just happening on an industrial scale." She said. "They screw in every bolt and lower heavy engines in by hand, and it felt a lot closer to art than anything else.
"On the other hand, the glass manufacturing plant and the lumber sawmill were loud and hot. There were a lot of things going on, and seeing all those moving parts working safely in such large-scale operations was amazing to witness."
Doctoral student Mona Abadian, who is studying sustainability and circular economy, said the trip provided students the chance to bridge a space between academic learning and see how that learning can be applied.
"Industry is a place where knowledge can be implemented," said Abadian. "As a researcher, it is possible for me to locate knowledge. But it is people within industry who will help take that knowledge and share it in the world."
Bush was struck by the connections that exist between companies in Virginia.
"A highlight for me was the interconnectedness of the companies that we visited," Bush said. "For example, the first day we went to Volvo Trucks and noticed that they packaged many components in reusable bins. On the last day, we went to a company called MonoFlo, and we realized they are the ones who make reusable bins for several big accounts, including Volvo. Examples like that helped demonstrate the importance of manufacturing and distribution channels to our students."
On the subject of reusability, Abadian saw that many of the companies were considering questions of sustainability.
"All of the places we visited were working on the issue of sustainability," said Abadian, who is studying with Assistant Professor Jennifer Russell, an expert on circular economy. "But the issue remains. For sustainability to be achieved, industry needs to collaborate with distributors and consumers to track these products when they leave the factory."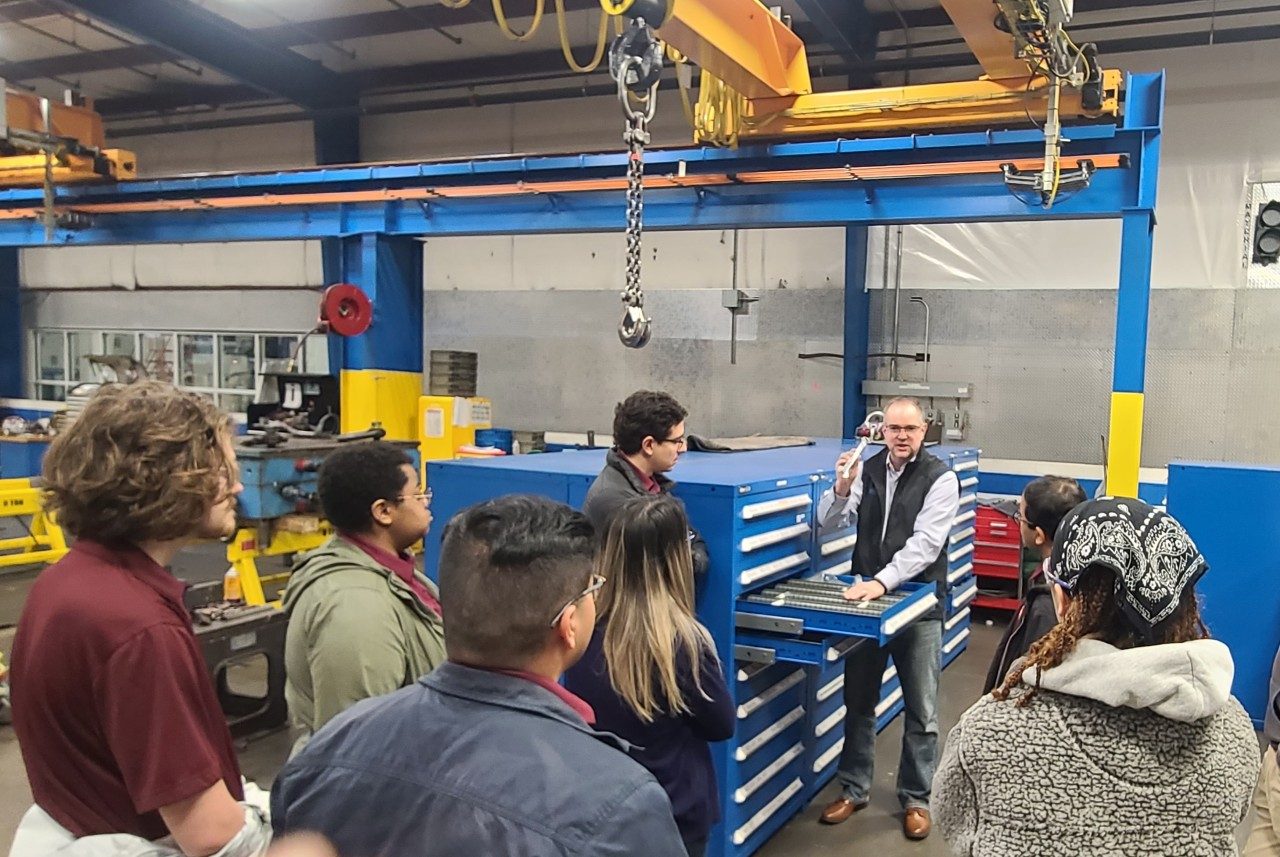 Students attending the Manufacturing Institute trip listen to Ben Waterman of Monoflo International discuss the importance of efficiency in manufacturing. Photo by John Freeborn for Virginia Tech.
Open doors in a burgeoning industry
For Bush, the highlight of the trip – delayed previously because of the COVID pandemic – was the support that he received from all of the manufacturing companies the students visited.
"I've been impressed and thankful for the help I received from industry," he noted. "Whether it's the wood or packaging industry or a custom car manufacturer, everyone opened their doors and were welcoming and eager to answer our questions. It's amazing how willing companies are to help out and support our college students."
John Freeborn, the director of employer relations for the college and one of the trip organizers and attendees, echoed the importance of giving students a direct experience with the manufacturing professionals.
"This trip represented an extraordinary opportunity for our students, allowing them to see firsthand the great career opportunities that exist in the thriving manufacturing sectors across Virginia," he said. "Our students learned not only about the size and scope of the sector, but about the interconnectedness of the sectors as well. It was a great experience, and I look forward to developing Virginia Tech's connection with manufacturers."
The Manufacturing Institute aims to offer another trip in spring 2024.