Drone delivery moved one step closer to reality in sub-Saharan Africa after Virginia Tech and Malawian teams conducted tests at the UNICEF drone testing corridor in Kasungu, Malawi.
The flights by a fully autonomous aircraft designed in mechanical engineering's Unmanned Systems Lab set several records in Malawi, including the longest cross-country unmanned aircraft flight, the first flight of an aircraft fabricated by Malawians, and the first delivery of a payload from a health clinic.

Designed to carry small packages for medical supplies and diagnostics, EcoSoar achieved a first-flight milestone Nov. 9 when it flew a 19 kilometer fully-autonomous mission from the Gogode Health Clinic to the Kasungu Airport carrying a simulated package of medical supplies.

More significant than the flight, however, was the fact the aircraft were built by a team of Malawian students from the Malawi University of Science and Technology (MUST) under the supervision of graduate students Zack Standridge in aerospace engineering and James Donnelly of mechanical engineering, and Kevin Kochersberger, an associate professor in mechanical engineering.

Thirteen students from across Malawi built five EcoSoar aircraft as part of a two-day fabrication workshop. After a day of flight testing, hundreds of villagers came to the airfield to witness the historic beyond-line-of-sight delivery flight. The aircraft carried a simulated package of dried blood spot samples to the Kasungu Airport.

"EcoSoar was designed with low-resource environments in mind," said Kochersberger of the $350 aircraft made from such materials as foamcore poster board and 3-D printed parts. "I envision entrepreneurs in Malawi establishing businesses around the use of this aircraft – building, operating, and maintaining EcoSoar for both medical deliveries and environmental assessment activities."

In addition to a payload capacity of 130 grams (4.5 ounces), the aircraft can be fitted with an eight-megapixel camera to collect images of the ground environment, which can then be reconstructed for environmental monitoring.

Donnelly launched the aircraft from the Gogode Health Clinic and Standridge stood by to recover the plane at the Kasungu Airport. Standridge was rewarded by the sound of the drone 14 minutes after takeoff when it was one kilometer from its destination.

"It is extremely rewarding to see my design successfully recreated, and seeing the local students' excitement in their work only adds to my own enthusiasm for the project," Standridge said.

The UNICEF drone testing corridor opened in July 2017 in partnership with the Malawian government to explore drone applications in emergency medical supply delivery, vaccine and sample delivery for diagnosis, and remote sensing for environmental assessment. It will remain open for one to two years.

"It was truly inspiring to see a Malawi-manufactured drone built only by students under Virginia Tech guidance," said Michael Scheibenreif, drone corridor lead with UNICEF, who was on-hand to witness and take part in the training opportunity.

"This could have the potential to deliver medicine to remote and hard to access communities and is a great example of how important it is to build local capacity in the drone sector. If we can build an ecosystem of drone experts locally, we can ensure these solutions are sustainable and embedded within the communities they service," Scheibenreif said.

The UNICEF drone coordinator said that after witnessing the manufacture and flight of the EcoSoar, he sees great opportunity for drones to leapfrog over broken infrastructure to carry lifesaving materials to places where developed transportation networks do not exist.

Kochersberger said he plans to return to Malawi in 2018 with a production-ready version of EcoSoar that will be adopted by the innovators who attended the workshop.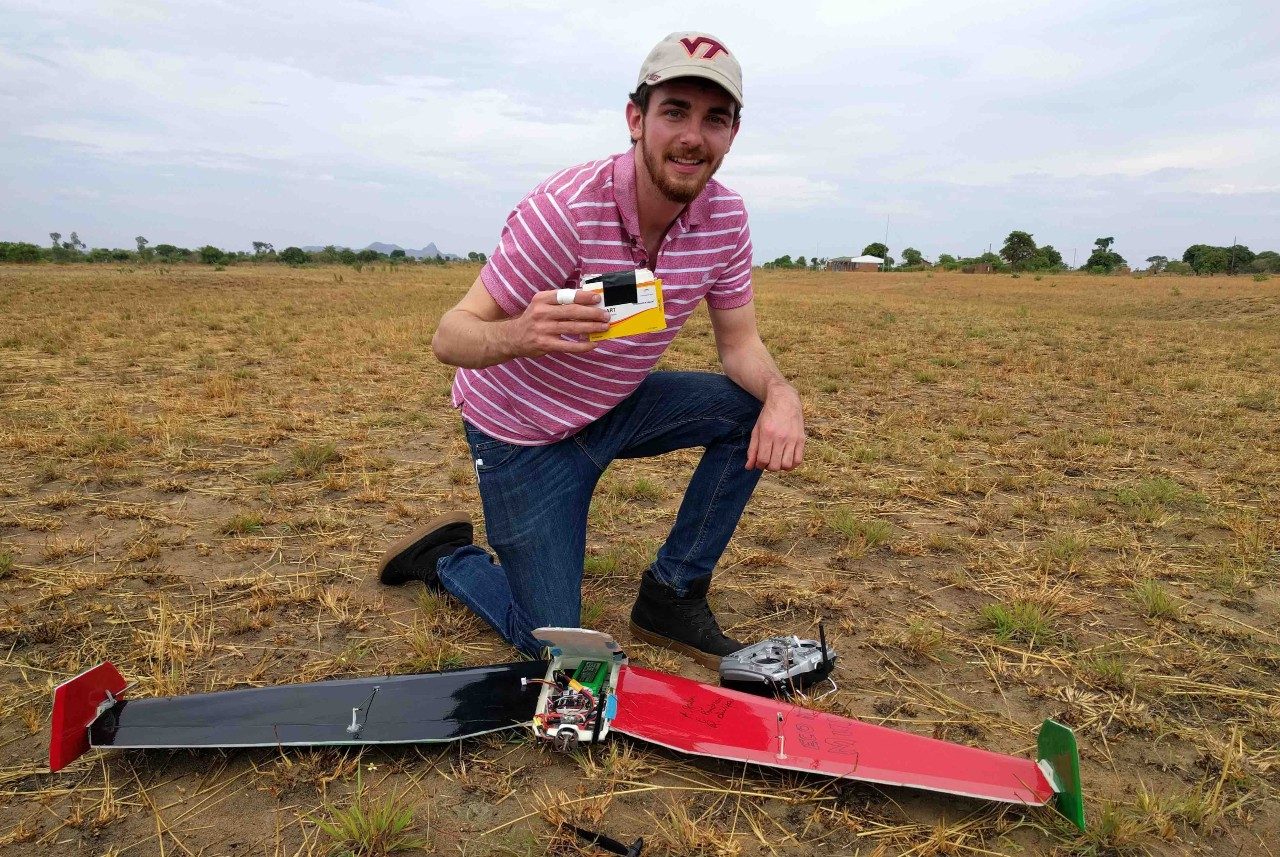 Zack Standridge, a graduate student with the Kevin T. Crofton Department of Aerospace and Ocean Engineering, holds the simulated medical package delivered by the autonomous drone.
Written by Rosaire Bushey