The Virginia Tech Board of Visitors voted today to create a School of Neuroscience — the first of its kind in the nation.
Pending approval from the State Council for Higher Education in Virginia, the proposed school will be administratively housed in the College of Science with close ties to the Virginia Tech Carilion Research Institute. It will increase the quality of undergraduate programs and the number of students completing graduate degrees in neuroscience, a broad and interdisciplinary field that seeks to understand the workings of the human neurological system, from the cellular level to an appreciation of the human mind and behavior.
Harald Sontheimer, an international expert on the biology of glial cells in cortical functioning who was recently appointed professor of neuroscience and I.O. Wilson Chair in the College of Science, will direct the School of Neuroscience. Sontheimer also serves as a professor at the Virginia Tech Carilion Research Institute, where he directs the Center for Glial Biology in Health, Disease, and Cancer.
A comprehensive story on the new School of Neuroscience will appear in Virginia Tech News Wednesday.
In other business at its quarterly meeting, the board approved a resolution to allow the university to move forward with a $7.735 million Residential Door Access Improvements project that will increase security, improve access monitoring, and centralize control of access. The project will involve the installation of electronic door access to approximately 4,520 existing student rooms and approximately 1,550 non-student doors (closets, storage rooms, and staff rooms) in all campus residence halls.
The board also approved resolutions to authorize funds for design plans for a new Corps Leadership and Military Science Building and to renovate four existing athletics facilities.
Current planning for the proposed Corps Leadership and Military Science Building locates the 60,000 gross-square-foot building in the northern portion of the existing Upper Quad near Lane Hall. The facility would provide a centralized and consolidated home to the wide range of Corps of Cadets and ROTC programs currently dispersed on campus and would include modern classroom, administrative, program, and academic office space.
The athletics facilities to be to be considered for renovation include Rector Field House, Cassell Coliseum and baseball and tennis facilities.
The board also approved a resolution in tribute to head football coach Frank Beamer. Beamer, a member of Virginia Tech's Class of 1969 and the Virginia Tech Sports Hall of Fame, has announced his plans to retire at the end of the 2015 football season, his 29th season as Virginia Tech's head football coach. From 2001 to 2014, 230 of 244 ( or 94.3 percent) of senior football players have earned their academic degrees.
During the Academic Affairs Committee meeting, Virginia Tech's Executive Vice President and Provost Thanassis Rikakis gave a report on his ongoing academic planning with the deans and faculty to reimagine undergraduate education, bringing together faculty across colleges and departments around broad themes that are designed to teach students to be prepared to solve the complex problems facing society. This unique approach will position Virginia Tech undergraduate and graduate students for success in the 21st Century economies. 
Rikakis noted how well positioned Virginia Tech is to produce graduates who will go on to lead productive lives with the resiliency required for the next generation job force. He stressed the need to attract and retain world-class diverse faculty and to continue the Hands on Minds On tradition of student experiential learning opportunities both in and out of the classroom.
The Finance and Audit Committee received a report on student financial aid, covering university efforts to increase student aid funds. Total institutional support for student financial aid has grown from $26.3 million in 2007-08 to $41.1 million this current academic year.
Former Senior Vice President and Provost Mark G. McNamee, as well as former Vice President for Research Robert Walters and Michael Bertelsen, former director of international research, education and development, were honored with emeritus status. Stories on each of these individuals, as well as current faculty members honored with endowed professorships or fellowships, will be published in Virginia Tech News beginning Wednesday, Nov. 11.
The next full meeting of the Virginia Tech Board of Visitors will be held March 20-21, 2016, in Blacksburg. More information on the Virginia Tech Board of Visitors may be found online.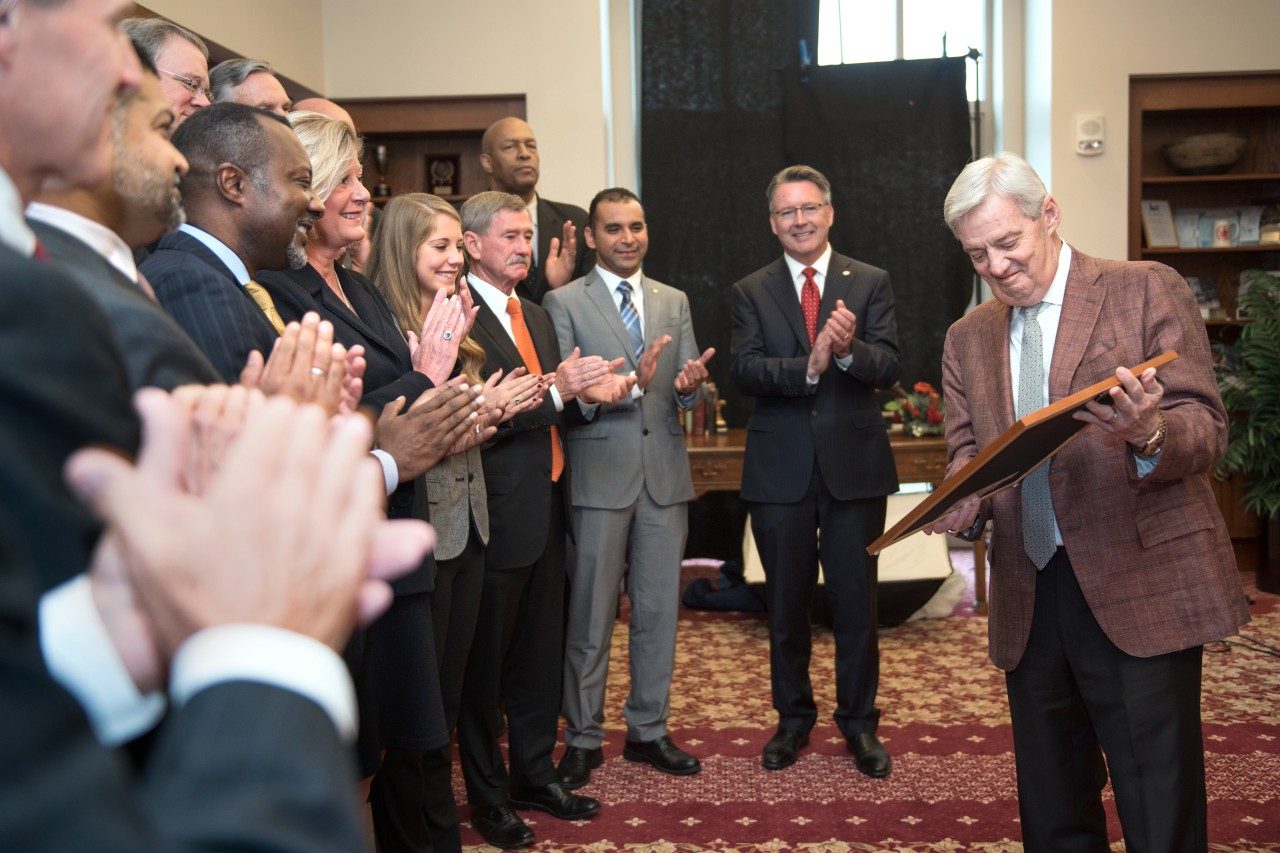 Board of Visitors honors Frank Beamer
The Virginia Tech Board of Visitors approved a resolution in tribute to head football coach Frank Beamer. Beamer has announced his plans to retire at the end of the 2015 football season.