Two faculty members from Virginia Tech's College of Agriculture and Life Sciences were recently recognized for their outstanding contributions to the field of animal science.
The American Society of Animal Sciences honored David Gerrard, professor of animal and poultry sciences and head of the department, and David Notter, professor emeritus of animal and poultry sciences. Gerrard received the 2015 Meats Research Award and Notter received the Bouffault International Animal Agriculture Award at the organization's annual meeting.
Gerrard has been a faculty member at Virginia Tech since 2009. He received a bachelor's degree, a master's degree, and a Ph.D. from Purdue University. In 1992 Gerrard joined the faculty at the University of Missouri-Columbia and was a visiting scientist at the Institut National de Recherche Agronomique, France. In 1996 he relocated his program to Purdue University and began studying the mechanisms controlling energy metabolism in skeletal muscle. He was promoted to professor in 2001 and was recognized as a University Faculty Scholar for his achievements. He has educated over 30 individuals who hold positions at a number of university, government, and privately funded research institutions, served as the lead on 15 federal grants worth over $6 million, and has published over 105 refereed publications in a variety of prestigious journals including Journal of Animal Science, Meat Science, The Journal of the Federation of American Societies for Experimental Biology, American Journal of Physiology, Cell Calcium, and PLoS ONE.
Notter has a bachelor's degree in animal science from The Ohio State University. He earned a master's degree and a Ph.D. degree from the University of Nebraska, and was a faculty member at Virginia Tech until his retirement in 2010. As emeritus professor, he remains active in the department and continues to do applied research in quantitative genetics. He has made important global contributions to the characterization, conservation, appropriate use, and continuing improvement of farm animal genetic resources through diverse assignments with the United Nations Food and Agriculture Organization and International Atomic Energy Agency. He mentored scientists through collaborations and cooperative research in India and Bangladesh, and recently initiated collaborations involving the genetic evaluation of sheep in Mexico and development of a breeding nucleus for alpaca in Peru.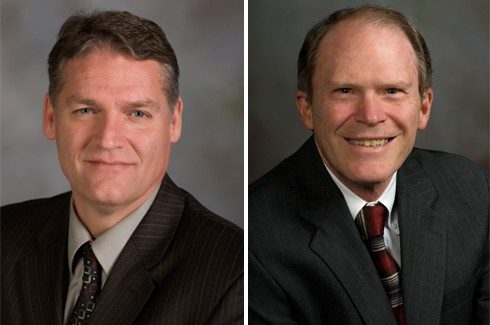 Gerrard Notter Composite
Professor and Department Head David Gerrard and Professor Emeritus David Notter