Karen A. Roberto, a professor in the College of Liberal Arts and Human Sciences, has always been curious about how older people are managing at home.
Early in her career, fresh out of Texas Tech University with a doctoral degree in human development, Roberto refined questionnaires, knocked on doors, and went into people's homes to get a sense of how their lives changed as they grew older.
In the process, Roberto made discoveries about elder abuse, the unspoken effects of illnesses, and the hidden health conditions of aging people and their families — information she shares with Virginia Tech students and the world.
Now, the Virginia Tech Board of Visitors has awarded Roberto a University Distinguished Professorship — a rank bestowed on no more than 1 percent of Virginia Tech faculty whose scholarly attainments have attracted national and international recognition.
"In thinking about the impact of a scholar's career, one must always ask if their contribution is unique, or would others, sooner or later, have come to the same conclusions?" said Elizabeth Spiller, a professor and dean of the College of Liberal Arts and Human Sciences. "This is the research that transforms a discipline and reshapes the knowledge communities within which we live. This is the work that changes what we know, what we can do, and even how we may think or feel. Dr. Roberto's scholarly achievements provide compelling answers to these questions, ones that emerge out of the distinctive constellation of theory, applied social research, and service that has defined her career. We are proud of Dr. Roberto's achievements and honored to have her as a colleague in the College of Liberal Arts and Human Sciences."
A family gerontologist with an eye for the social trappings of older people and their families, Roberto relies on natural curiosity and basic questions to get a clear picture of rural older women, family relationships and caregiving, elder abuse, and coping with chronic conditions such as osteoporosis, pain, falls, and cancer.
"I'm grateful and humbled by the honor," Roberto said. "It has been a great experience for me to be part of the Virginia Tech community. I will continue my research with my students and colleagues and hopefully continue to break new ground."
Roberto said the picture of healthy aging is often painted by the way people face daily challenges and adversity.
"The good news, particularly with women I have worked with over the years, is about 75 percent of them are doing fine," Roberto said. "They manage, they restructure and reconstruct their lives to meet new situations, and they are happy. It's not that dreadful downside of aging that people like to stereotype. For the most part, older people face controversy, figure it out, and move on."
But the exceptions to healthy aging add up, especially in a nation where one in eight Americans is 65 or older — soon to become about one in five in the next 15 years, according to the Administration on Aging. Roberto enters the picture by discovering a source of hardship and shining a light on it.
"My real passion is learning about health in the context of everyday lives," Roberto said. "What do old people do when they have a problem or illnesses, how does that play out in their families and communities? When we ask people to tell us about their lives, how they deal with osteoporosis, for example, they might tell a story about how they're troubled because they can't get on the floor to play with their grandchildren — with that information you begin to unravel the story of a disease."
Roberto's research on the family care partners of people with mild cognitive impairment, or MCI, is "the preeminent program of scholarship in this area," said William E. Haley, a professor in the School of Aging Studies at the University of South Florida, a past president of Division 20 of the American Psychological Association, and a scholar of family care-giving for 30 years.
Haley said Roberto and her collaborators introduced the concept of "ambiguous loss" to mild cognitive impairment in a 2007 paper, the most widely cited article in this field of study.
"Until this work was published, family coping in MCI was virtually ignored, with nearly all efforts focused on biomedical and neuropsychological studies of MCI," Haley said.
Roberto's creative approach to document elder financial abuse resulted in breakthrough research on a critical national issue, according to John N. Migliaccio, a former assistant vice president and director of research and gerontology with MetLife Mature Market Institute.
The studies, "Broken Trust: Elders, Family, and Finance" and its follow-up, "Elder Financial Abuse: Crimes of Occasion, Desperation, and Predation Against America's Elders,"  answered critical questions about a form of abuse that costs its victims and the nation billions of dollars each year, Migliaccio said.
In addition to being cited more than 1,400 times and at least six times in proposals for federal legislation, the research generated stories in top publications, such as The Wall St. Journal, New York Times, Washington Post, Los Angeles Times, National Public Radio, and Dow Jones MarketWatch.
Roberto has crisscrossed the globe to inform medical and scientific audiences in Korea, Hong Kong, Australia, Turkey, Ireland, Costa Rica, and Canada about her discoveries.
Roberto joined the College of Liberal Arts and Human Sciences at Virginia Tech in 1996 as the director of the Center for Gerontology. Roberto mentors undergraduate and graduate students and uses her position as a research administrator to mentor new and experienced faculty members. Dozens of Roberto's former students serve in leadership positions in community service organizations and academia across the United States.
In 2006 Roberto was named as the founding director of the Institute for Society, Culture, and Environment, where she established an infrastructure to advance the university's extramural funding portfolio in the social sciences and humanities.  Through individualized faculty attention, competitive grant and fellowship programs, creation of new centers and initiatives, and an affiliate network with more than 45 research centers, laboratories, and programs across Virginia Tech, the institute has expanded the university's social science research agenda.
Written by John Pastor.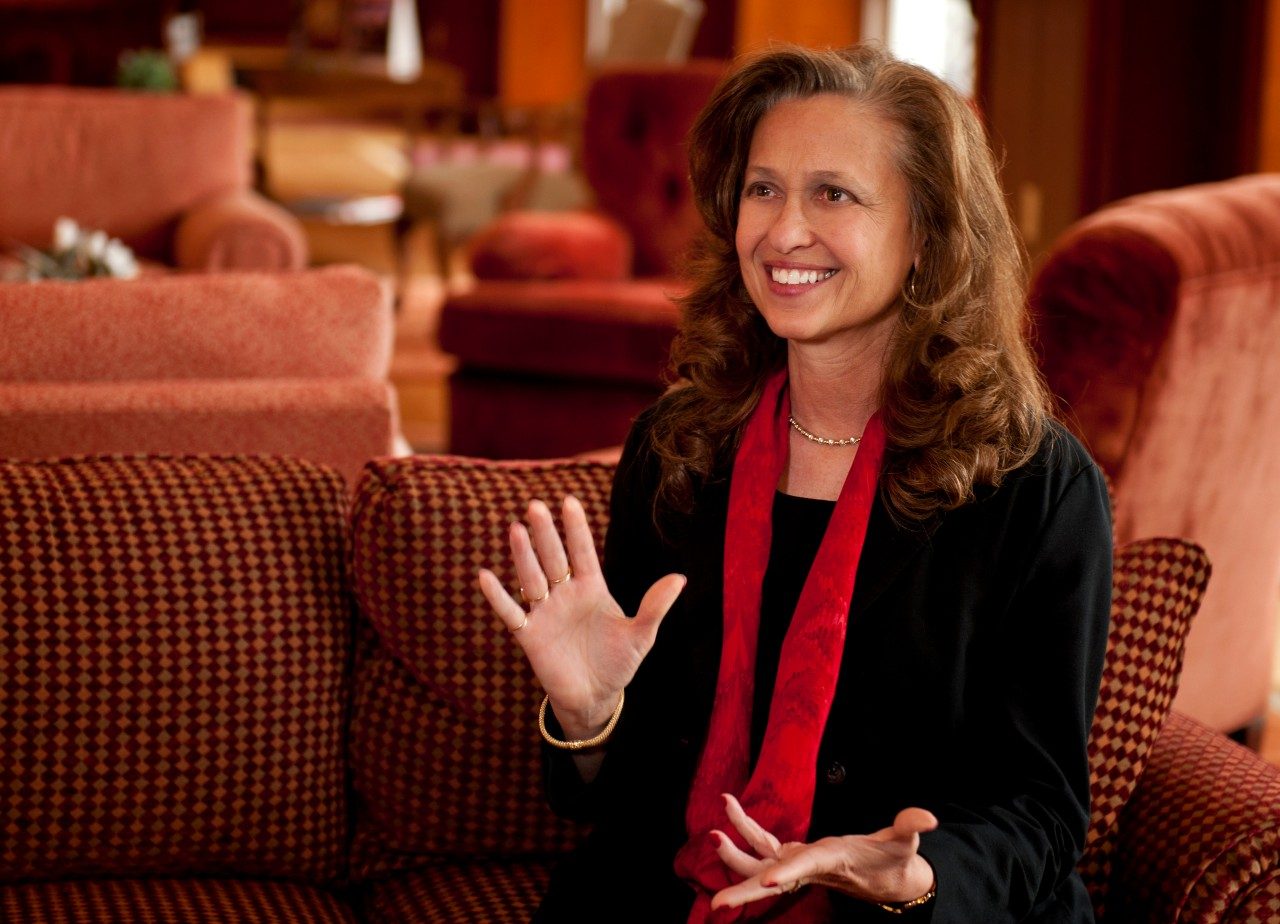 Karen Roberto
Karen A. Roberto, an internationally-recognized leader in the field of social gerontology, was appointed a University Distinguished Professor at Virginia Tech.