Category:
academics
Summer undergraduate research: Women who steer engineering research program
Every year, the National Science Foundation provides grant support to fund research initiatives through Virginia Tech's Research Experience for Undergraduates Program. This year, this support was targeted to encourage undergraduate women to engage in tire engineering research at the university's Center for Tire Research.
This summer, Saied Taheri, associate professor of mechanical engineering in the College of Engineering and director of the Center for Tire Research, is mentoring three women engineers across various research projects.
"This program is aimed at training the next generation of engineers for tire and automotive industries. It provides students with hands on/minds on experience with cutting edge technologies," said Taheri.
Alisha Konst of Botetourt, Va., a rising junior in mechanical engineering in the College of Engineering, is working with a team of students to improve the mobility of a small ground robot. "Our research is based on improving small robotics for military and agricultural use," said Konst.  Seyedmeysam Khaleghian, a Ph.D. candidate in the department of engineering science and mechanics in the College of Engineering who oversees Konst's work, said, "We are looking at how intelligent tires can improve the mobility of small ground robot. This research gives us the opportunity to conserve energy and utilize this technology for multiple uses."
Robin Roston of Newport News, Va., a rising junior in mechanical engineering in the College of Engineering, is aiming to improve steering and suspension structures in vehicles. Roston and a team of students use simulation software to develop a quarter car model. This will be used to test various scenarios common among Formula 1 vehicles. They will use this simulation data to create a test rig that will put the scenarios into action, allowing the team to compare the accuracy of the software.
Allison Brown of Rocky Mount, Va., a rising sophomore in electrical engineering technology at Virginia Western Community College is researching the ability to use energy from the movement of train suspensions to power small devices on the train, such as GPS units. Brown refers to this mechanism as an energy harvester. "Normally GPS units would be battery powered, so utilizing this technology has the potential to save energy," Brown said.
Brown is not a Virginia Tech student, however she has gained instrumental experience through Virginia Tech's program.
"This is an incredible opportunity for women to have their turn at inventing the future! I can see my life taking me different places where I can implement skills I've learned while being a part of this program," Brown said.
The three women in this program are among 10 undergraduate students collaborating on similar projects. According to a 2011 report from the American Society for Engineering Education, the percentage of women who graduated with a bachelor's degree in engineering was 18.4 percent. Virginia Tech's engineering program is ranked eighth among 348 schools by the number of bachelor's degrees awarded to women according to this report.
The symposium schedule and abstract book are now available online.
During the summer of 2013, more than 250 students are taking part in undergraduate research experiences through more than a dozen programs on campus. The Office of Undergraduate Research is coordinating workshops and activities for the programs' participants through the summer. Students will present their work at the Virginia Tech Summer Undergraduate Research Symposium on Wednesday, July 31.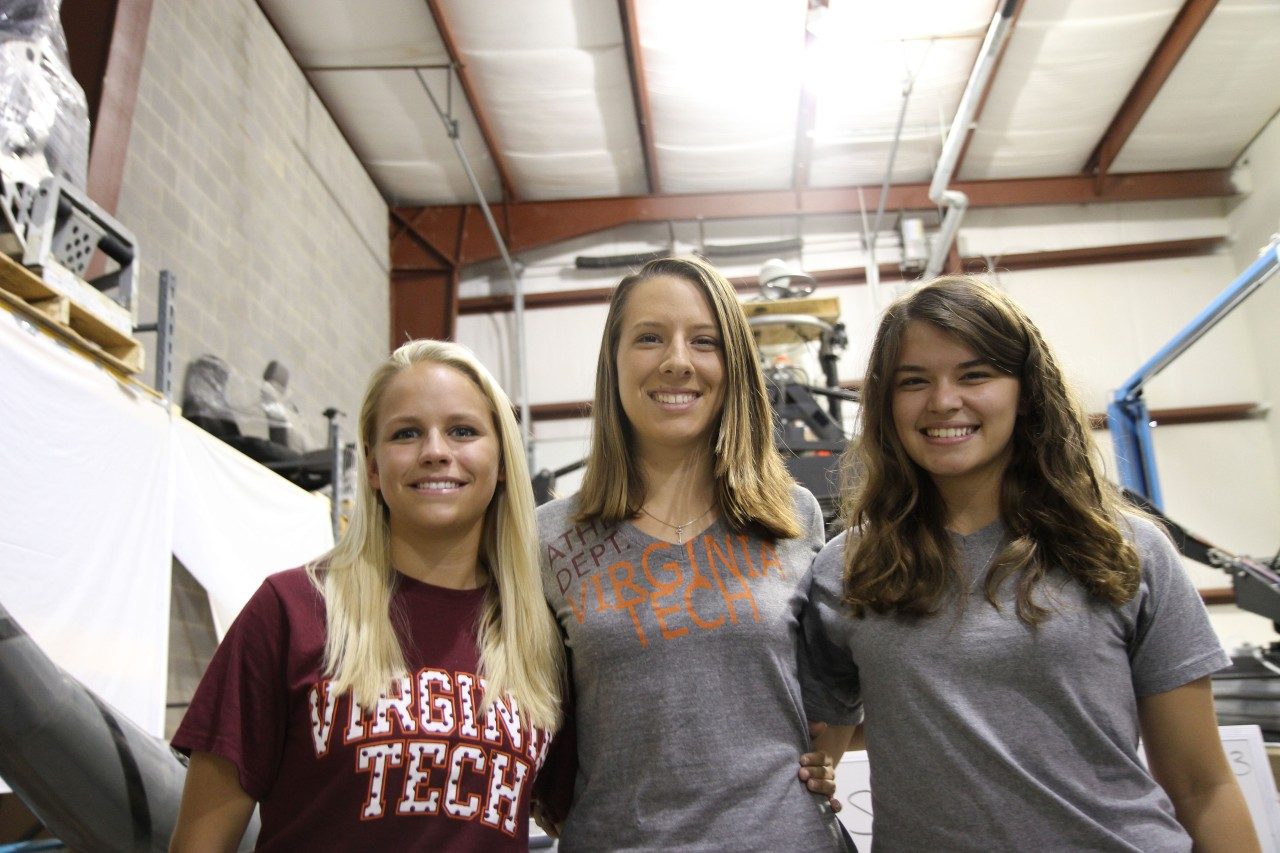 Undergraduate Research: Women steer engineering research program
Alisha Konst and Robin Roston, both rising juniors in mechanical engineering at Virginia Tech, and Alison Brown, a rising sophomore in electrical engineering at Virginia Western Community College, meet at Virginia Tech's Center for Vehicle Systems and Safety Lab.