Category:
impact
Conference in Indonesia highlights how biodiversity plays key role in sustainable agriculture programs
When microscopic plant diseases and minuscule insects threaten farmers' crops in the developing world, a Virginia Tech program responds. 
The Integrated Pest Management Innovation Lab keeps biodiversity in mind while developing environmentally friendly and economical management tactics. 
"Virginia Tech is proud that we are having a direct impact on biodiversity through the IPM Innovation Lab," says Guru Ghosh, vice president for International Affairs and Outreach at Virginia Tech.
The program is organizing a conference, "Biodiversity and Integrated Pest Management: Working Together for a Sustainable Future," in Manado, North Sulawesi, Indonesia, July 4 through 7.
Small pests, big problems
The multimillion dollar program, funded by the U.S. Agency for International Development, has been housed at Virginia Tech since 1993. The program works with an international group of scientists and researchers to develop sustainable pest management methods, reducing crop losses and improving livelihoods for farmers in 16 tropical and subtropical countries.
The program's pest management techniques seek to maintain biodiversity by lowering pesticide use and, in some cases, eliminating it completely. Pests targeted by the program range from microscopic pathogens transmitted by insects to plant feeding caterpillars, many of which are invasive or not native to areas in which they are a problem. The program's tactics work to manage these pests while maintaining a level of biological harmony.
The program has been working in Indonesia since 2004 with a team led by faculty from Clemson University. The program's success led to an additional $400,000 award from USAID in 2013.
Biodiversity concerns
On May 22, many around the world recognize the annual United Nations-declared International Day for Biological Diversity.
"It is our responsibility as stewards of the planet to work toward sustaining biodiversity every day," says Michael Bertelsen, executive director of the Office of International Research, Education, and Development, the unit managing the program. "Any agriculture- and environmental-related efforts in international development must consider biodiversity when planning programs."
Indonesia and Alfred Russel Wallace
The conference site, North Sulawesi, Indonesia, has long been appreciated for its great biodiversity. Alfred Russel Wallace, the famed 19th century British naturalist, spent considerable time in this region, collecting various kinds of insects and birds throughout the island of Sulawesi, and 2013 represents the 100th anniversary of his death. Many of his ideas on evolution and natural selection, which paralleled those of Charles Darwin, were crystallized from his observations of high speciation in this area.
The conference will highlight the island's rich ecological history through field trips in the surrounding area.
"There is a need for integrated pest management practitioners and proponents of biodiversity to bring their ideas together," says Rangaswamy "Muni" Muniappan, director of the program. "This conference is a way to facilitate this dialogue in Indonesia and beyond."
Additional conference organizers include Clemson University, Sam Ratulangi University (Indonesia), and the International Association for the Plant Protection Sciences. The keynote will be given by M. S. Swaminathan, the first World Food Prize laureate and a world-renowned agricultural scientist.
Dedicated to its motto, Ut Prosim (That I May Serve), Virginia Tech takes a hands-on, engaging approach to education, preparing scholars to be leaders in their fields and communities. As the commonwealth's most comprehensive university and its leading research institution, Virginia Tech offers 240 undergraduate and graduate degree programs to more than 31,000 students and manages a research portfolio of $513 million. The university fulfills its land-grant mission of transforming knowledge to practice through technological leadership and by fueling economic growth and job creation locally, regionally, and across Virginia.
Written by Melissa Smith.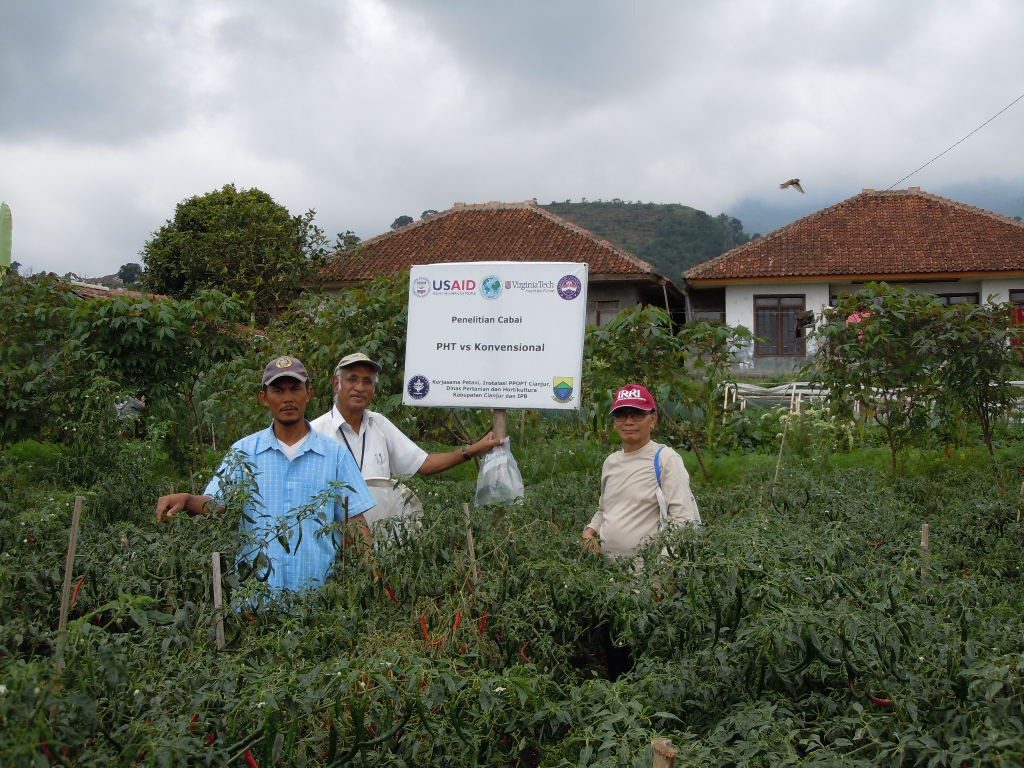 Integrated Pest Management Innovation Lab hot pepper trial field in Indonesia
Rangaswamy "Muni" Muniappan, Integrated Pest Management Innovation Lab director (center), stands in a hot pepper trial field in Puncak, West Java, Indonesia, with program collaborators Aunu Rauf (right) of Bogor Agricultural University in Indonesia and Pak Ujang (left), a farmer. Photo courtesy of Muni Muniappan.