Editor's Note: Since the article's original date of publication, Virginia Tech's partnership with MARG Swarnabhoomi has dissolved, ending plans to inhabit the 6,000-square-foot lab in the Amrita Research Park. Virginia Tech's major enterprise has since moved to Maduravoyal, Chennai, about two hours away and close to Mahindra World City. In Chennai – and at a new site at the Virginia Tech Corporate Research Center in Blacksburg – Virginia Tech researchers and scientists are collaborating with Mahindra engineers to create next-generation "smart" farm equipment.
Whether India can spring millions of people from poverty rests on its capacity to produce enough electricity for everyone, National Public Radio reported earlier this month. A new Virginia Tech research center, set to open later this fall in the state of Tamil Nadu in southeast India, will mobilize an engineering team to refine and adapt windmills and solar panels for use in households in rural India.
"The goal is to improve life for 400 million Indians not connected to the grid," says Guru Ghosh, vice president for international affairs. "There are still some refinements to be made on this amazing technology developed at Virginia Tech. We're aiming for the point where the solar panels and small windmills can be mass produced, tested in India's rural communities, and then be deployed to create low-cost, renewable energy worldwide."
Richard C. Benson, dean of the College of Engineering, says, "Especially during this sesquicentennial celebration of the law creating the land-grant system, Virginia Tech is honored and pleased to contribute research ideas and acumen that solve some of the world's most pressing energy problems."
Two years ago Virginia Tech announced an agreement with private-sector partner MARG Swarnabhoomi to establish the Virginia Tech, India campus. MARG Swarnabhoomi has committed $1.8 million for laboratory build-out, which will equal or exceed facilities at the Blacksburg-based Center for Energy Harvesting Materials and Systems, directed by Shashank Priya of the College of Engineering. Virginia Tech is underwriting staff and operations with an initial outlay of $350,000, Ghosh says.
 "We will start recruiting graduate students in India to work on the project immediately, while our 6,000-square-foot lab space is being fully outfitted," says Roop Mahajan, director of the Institute for Critical Technology and Applied Science at Virginia Tech. "Our push for sustainable energy technology reflects our understanding of the interconnectedness of developed and developing countries. With more than a billion people worldwide living in rural communities in extreme poverty, how energy production proceeds will have global impact."
The new research center will be called the VT, India Institute for Critical Technology and Applied Science Innovation Center. The center will be inside MARG Swarnabhoomi's Amrita Research Park, where ocean breezes are conducive to windmill research, Mahajan says. Windmills are being designed to work in areas of low and variable wind speed; similarly, the solar panels are being designed to work in low-light conditions, he says.
While initially graduate students assigned to the center will be drawn from Virginia Tech's partner institutions in India, eventually Blacksburg-based students will have the opportunity to work on the project, Ghosh says. "In addition to giving access to investors interested in commercial application, our being in India also provides Virginia Tech's graduate-level engineering students valuable experience working in a developing country."
Priya adds, "India, with its big energy needs, can immediately begin to use these technologies and tell us how they work, what improvements need to be made, and guide us so that the windmills and solar panels are suitable to go to the marketplace."
The windmills, which currently cost less than $1,000 to produce, use a unique blade developed at Virginia Tech that achieves greater than normal aerodynamic performance. The solar panels involve a paint process that might one day be easily mass produced in a factory.
The VT, India Institute for Critical Technology and Applied Science Innovation Center will be part of the National Science Foundation Industry/University Cooperative Research Center established at Virginia Tech in 2010, Priya says.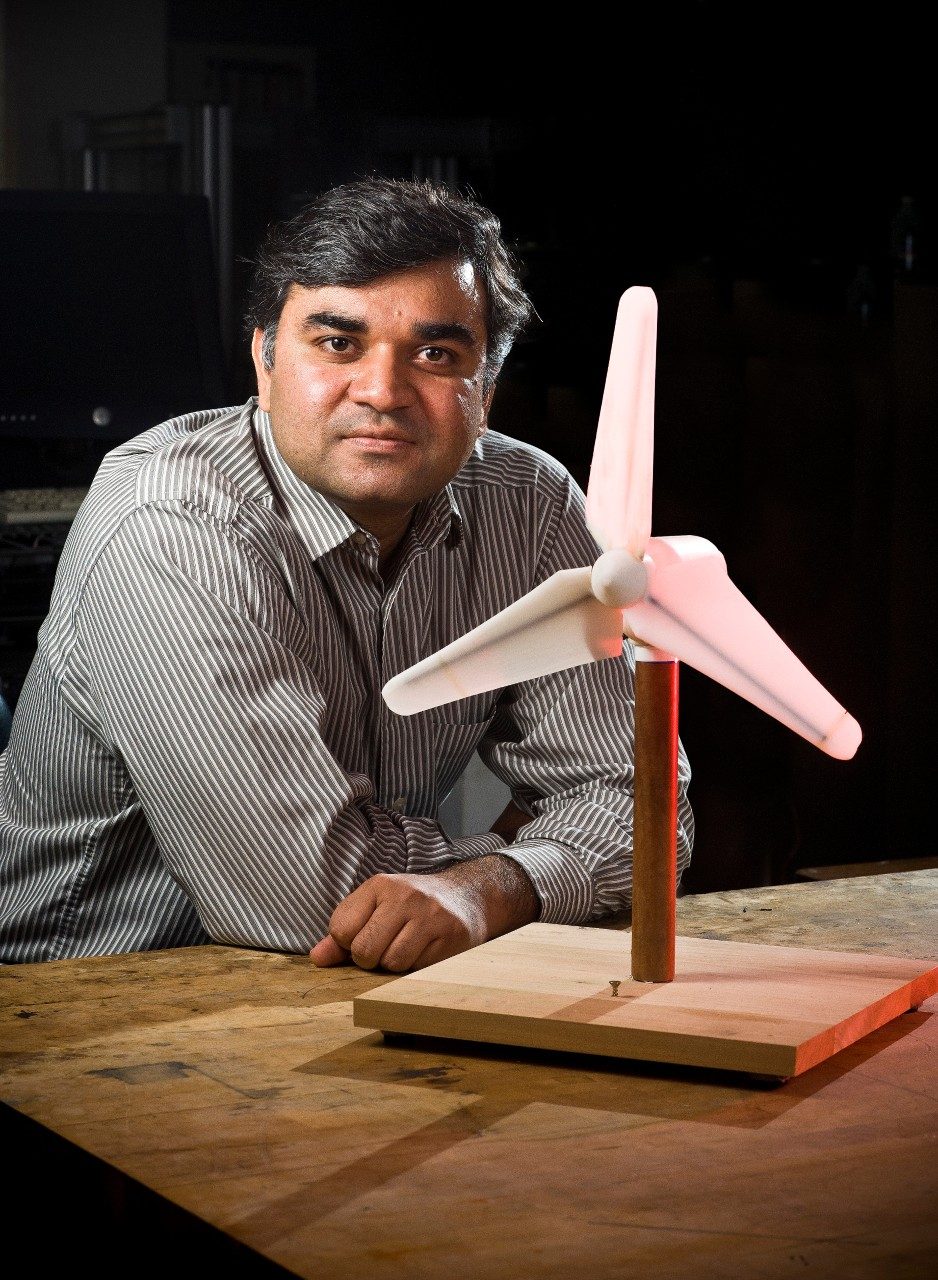 Shanshank Priya
Shashank Priya developed these piezoelectric windmills to power a bridge monitoring sensor network.