Category:
research
Virginia Tech Transportation Institute, NEC demonstrate intersection safety
The Virginia Tech Transportation Institute (VTTI) and NEC Corporation of America (NEC) today announced they have combined private 5G and artificial intelligence (AI) to create a roadway warning system that could potentially saves lives.
VTTI and NEC's research have created the potential to identify dangerous traffic conditions and hazards, such as the approach of pedestrians or animals, to provide warnings to drivers. These tests were conducted from January to March 2023 in Blacksburg, Virginia on the Virginia Smart Roads, one of the only facilities in the world that can conduct these advanced tests.
"The concept of infrastructure-cooperative mobility that NEC is aiming for requires highly reliable, low-latency communications via a dedicated network to predict or detect incidents near intersections," said Mike Mollenhauer, Director of the Division of Technology Implementation at VTTI. "VTTI believes this proof of concept will complement C-V2X technology and improve road safety by informing vehicles and pedestrians of possible traffic hazards when passing through an intersection. VTTI intends to work with NEC to apply the results of these tests to intersections on live public roads."
The use of 5G is expanding throughout a wide range of fields, and demand for 5G networking is expected to continue growing globally. In response, NEC is conducting verification tests, such as these with researchers from VTTI, to develop best practices in effectively using 5G for traffic safety across various frequency bands, technical specifications, and other conditions internationally.
During these tests, cameras and private 5G base stations that are installed on signal poles of VTTI's private testing facility transmitted high-definition traffic images via private 5G, enabling real time analysis of the images using AI.
"This solution combines private 5G and state-of-the-art AI-based video analytics with C-V2X technology to create social value that contributes to safety and security for vehicles and pedestrians in the vicinity of intersections," said Masahiko Mack Nakagawa, Vice President of Corporate Business Development Division, NEC. "These technologies can identify hazardous situations in areas that can be blind spots for drivers and pedestrians and warning them of such situations. This solution can reduce crashes and fatalities, as well as support automated driving from roadside infrastructure." said.
The private 5G in this demonstration used the n78 frequency band used by the Citizens Broadband Radio Service (CBRS) in the U.S. The base stations introduced for private 5G networking align with O-RAN Alliance specifications and the tests were conducted under the commission of Japan's Ministry of Internal Affairs and Communications' "Verification Tests of 5G and Video Analysis Applications Using Traffic Signals in the United States."
These tests do not use technologies for identifying or authenticating individuals. The tests included software-based privacy filtering based on requirements of Virginia Department of Transportation.
NEC will leverage these tests to develop additional technologies that contribute to the reduction of traffic accidents and traffic congestion throughout the world.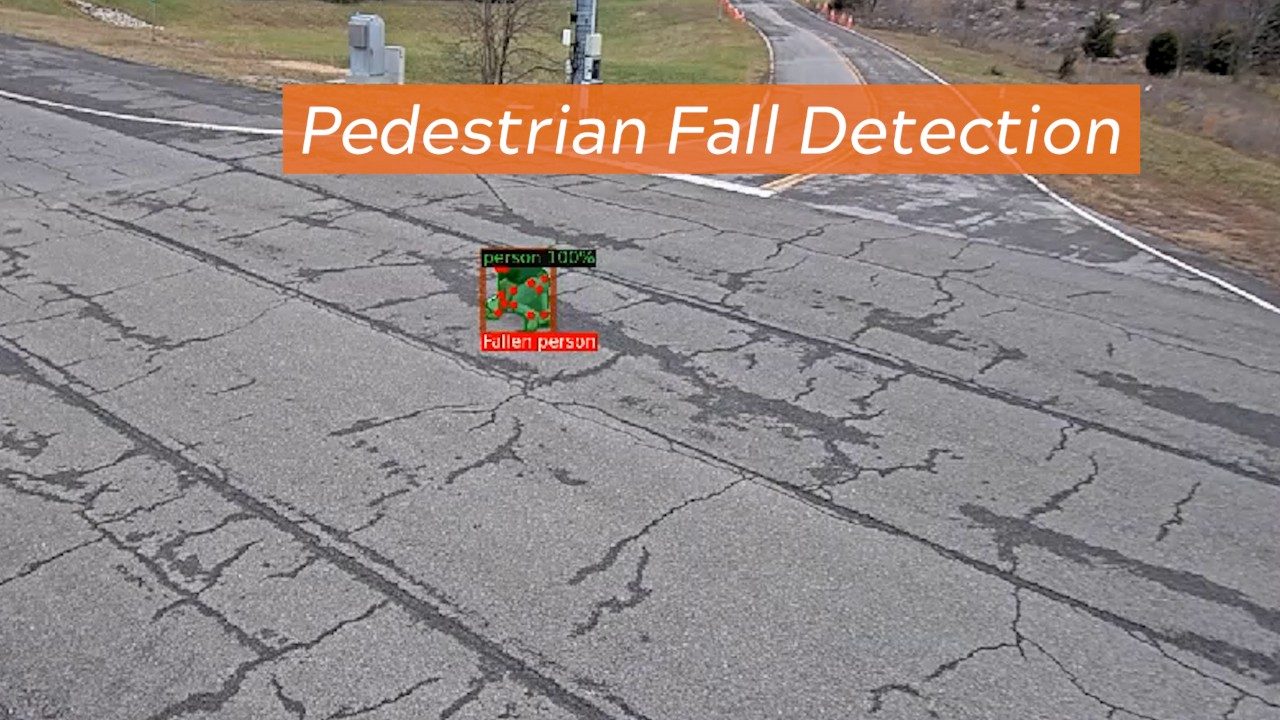 The NEC cameras can detect pedestrians who have fallen, including the capability to blur a pedestrian's face for privacy. Photo from the Virginia Tech Transportation Institute