Category:
academics
HBCU alumni at Virginia Tech share perspectives with current HBCU students at research summit
Students from 17 historically black colleges and universities (HBCUs) and minority serving institutions (MSIs) across the mid-Atlantic and South converged on Virginia Tech on a recent weekend to explore research and advanced degree opportunities.
The students were participants in Virginia Tech's second annual HBCU/MSI Research Summit, which focused on fostering connections with students and faculty from those institutions. Virginia State (VSU), Morehouse, Delaware State, and North Carolina Agricultural & Technical (NCA&T) universities were among the institutions with faculty and students at the two-day event.
The first summit, in 2016, was a partnership between the Graduate School and the College of Engineering. According to Jack Lesko, College of Engineering associate dean for research and graduate students, the primary goal of the summits is to develop research partnerships and ongoing relationships between Virginia Tech and HBCUs and MSIs. 
Christian Matheis, director of the Graduate School Office of Recruitment and Diversity Initiatives, which organized the event, noted that the summits are achieving that objective and blending it into the university's inclusion and diversity focus. "The strength of the research summit comes from the way it prioritizes research excellence, equity, and inclusion as concurrent objectives," said Matheis. "The contributors and institutional partners who share these priorities have made it clear that they want to continue to foster the long-term relationships between HBCUs, MSIs, and Virginia Tech. Overall, the event far exceeded our hopes and expectations."
The Office of Inclusion and Diversity was a partner in this year's summit, expanding its reach and providing more networking opportunities.
Additionally, the summits provide an opportunity to reach out to potential students who are underrepresented in the Virginia Tech student population in hopes that the visitors will consider graduate education here. This year, programs from every college participated, offering tours, demonstrations, panel discussions, and one-on-one meetings with visiting students.
For the students, it was a chance to explore Virginia Tech's Blacksburg campus. They toured labs and facilities, watched demonstrations, met faculty and program directors, and talked to alumni from HBCUs who now are graduate students at Virginia Tech. The graduate students shared their experiences transitioning from HBCUs to an R-1 research institute where the majority of students are white, and how they found and created support systems and community.
The Virginia Tech students were candid about the adjustment. "It was a complete shock," said TeAirra Brown, a doctoral student in industrial and systems engineering from Virginia Beach who attended Norfolk State University. "I came in knowing Virginia Tech was only about 4 percent black, but it was really rough. … I felt like I always had to be on. I felt I had to prove myself all the time."
But Brown said she found support through the Black Graduate Student Organization and her sorority and with the other black students in her cohort at the College of Engineering.
Cheryl Montgomery, who attended Hampton University and currently is earning a Ph.D. in urban affairs and planning, said she had worked in the professional world before returning to the academy, so the adjustment was not as jarring. "I was used to being in mixed situations with mixed people," she said. Montgomery, who is president of the BGSO, suggested students join groups or join a church in the area to help provide balance and community.
Most of the visitors' questions turned to universal concerns for students: how to apply for admission, how to choose an advisor, and what made the panelists choose Virginia Tech.
Montgomery urged the visitors to "vet people very hard" when they consider potential advisors. Her advice was echoed by other panelists, who urged the visitors to contact other graduate students and to research potential advisors to make sure their work aligns with the students' interests.
The panel also provided insights about the application process, advising students to make sure they know how many letters of recommendation they need and to give considered thought to their personal statement. Their words were echoed by Sylvester Johnson, assistant vice provost for humanities and professor in religion and culture, during his keynote address. Johnson shared with students that one of his professors worked for hours to help him hone his personal statement.
Visiting students asked about how the current political climate affected Virginia Tech.  Brown said the situation has helped her discover allies within her department and had "allowed for some real conversations." Montgomery, who studies critical race theory, and others on the panel noted that students can choose whether or not to participate in such conversations and share their experiences. "You are not here to be everybody's race educator," Montgomery said.
Courtney Lawrence, a doctoral student in agricultural, leadership, and community education who attended NCA&T, agreed. He said he has learned to recognize when he can turn situations into teachable moments. Visiting students in the audience said they were encouraged by the panelists' responses.
VSU students Tamara Proctor, Brandi Ford, and Justin Long toured the chemistry department's labs and said they were impressed with the technology and the space students had for their research. "I was happy to see how they did research," said Long, who added that he liked the support community. Nathaniel Plummer, also of VSU, said he appreciated the chance to see the campus and explore programs.
Amber Blue, of Alabama Agricultural and Mechanical University, toured the food sciences and water labs in the College of Agriculture and Life Sciences and attended a panel discussion.
"I think I can see myself here," she said. "Virginia Tech is on my list."
Students also provided feedback on a survey immediately after the summit, including this remark: "This summit helped me to see that it is possible for me to go to graduate school, as I had previously thought otherwise."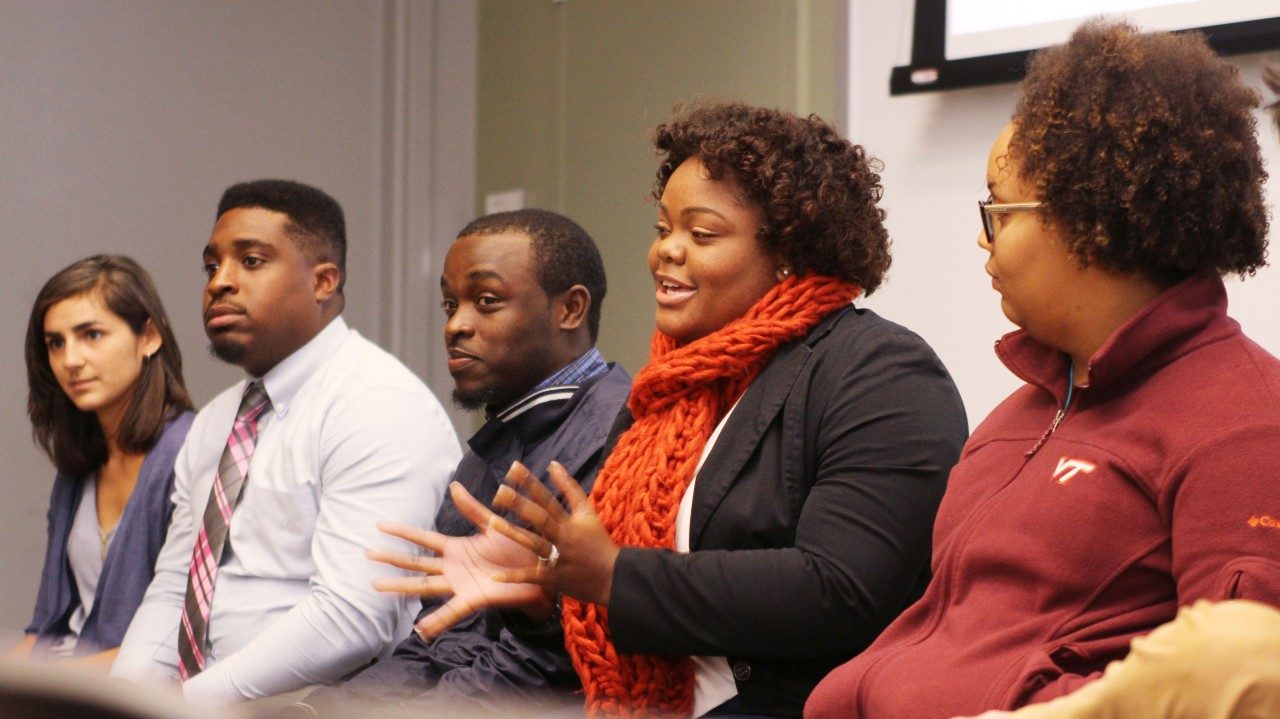 Graduate students Johanna Arredondo, left, from the forest resources and environmental conservation program; Courtney Lawrence, from agricultural, leadership, and community education; Matthew Ferby, from environmental and water resources engineering; Paulnisha Granger, from dairy science; and Chantel Simpson, from agricultural, leadership, and community education, spoke with visiting students during the HBCU/SMI Research Summit.