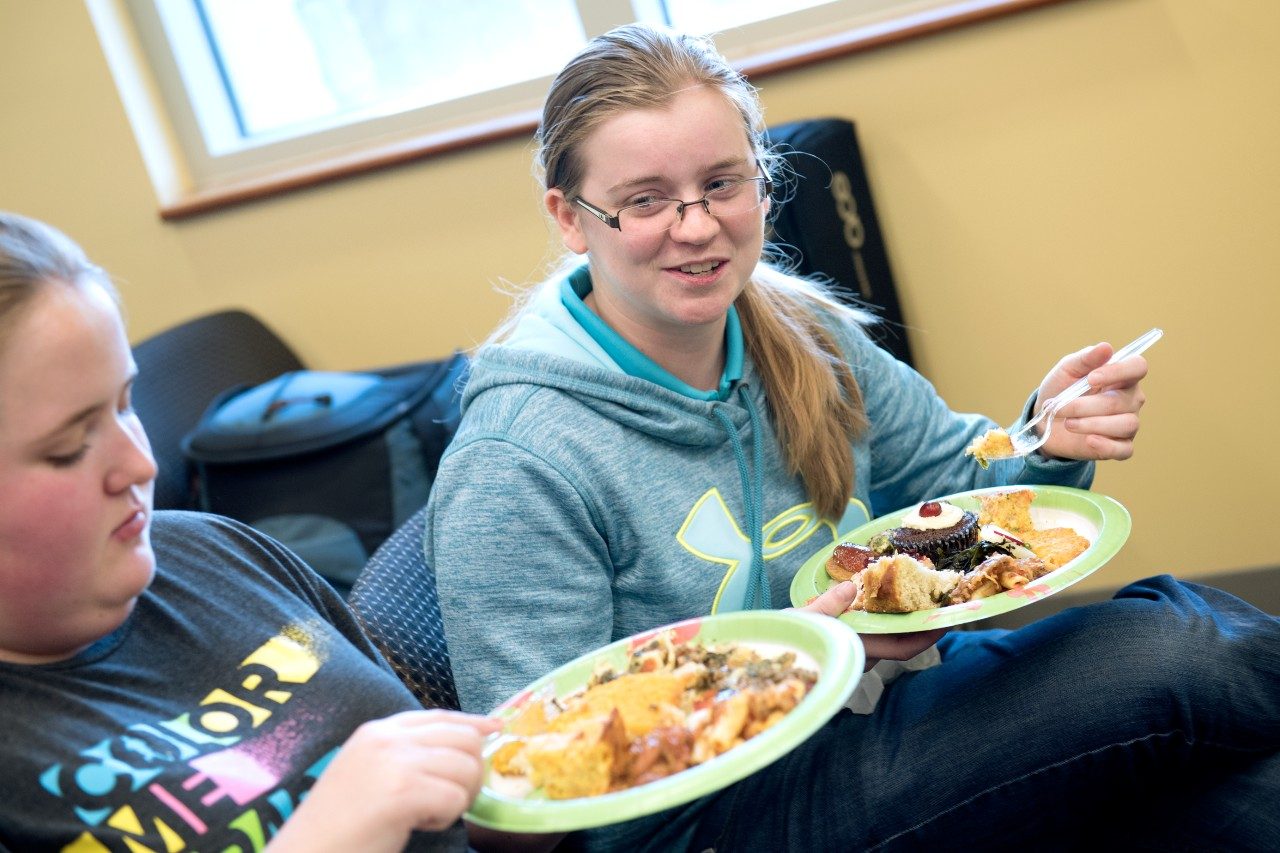 Invasive Species Potluck
Students in the College of Agriculture and Life Sciences at Virginia Tech prepared dishes using invasive species for a class on biological invasions.
BLACKSBURG — Rose Peterson of Norfolk, Virginia, was recently whipping up some pesto, which is generally made with basil, pine nuts, olive oil, and Parmesan cheese.
But the Virginia Tech senior skipped the basil and instead substituted garlic mustard, a common weed that is one of many invasive plants that are not only ubiquitous, but also delicious.
"Garlic mustard grows commonly in lawns," said Peterson, who harvested some from her aunt's house in New Jersey over Thanksgiving break. "You could probably forage some on the Drillfield, too."
Peterson, who is majoring in biology, made the dish for her biological invasions class at Virginia Tech. For their end of the semester project, students had to not only tell the history of invasive species, they had to cook up a delectable dish to share with the class taught by Jacob Barney.
"I wanted students to get a sense of why and how people move species around from this class," said Barney, assistant professor of plant pathology, physiology, and weed science in the College of Agriculture and Life Sciences. "The species we have now were introduced a long time ago, and it's not always cut-and-dry as to whether or not these species are bad. It really depends on the eye of the beholder."

Some of the invasive species plats du jour on the menu at the potluck included Kangaroo chili, wild boar Chinese dumplings, fried catfish, autumn olive cheesecake bars, Foxgrape wine and coffee cupcakes, and Red Swamp Crawfish.
Any species — be it flora, fauna, or bacteria — can be invasive by spreading and pushing out native organisms.
"Many of these species can have a detrimental ecological and economic impact," said Barney. "But at the same time many of them are edible."
Not only are invasive species edible, the students in Barney's class proved these space invaders are downright tasty.
Daniel Steger, of Rochester, New York, a senior majoring in crop and soil environmental sciences, made Italian sausage soup with meat he harvested from a feral hog. Feral hogs are widely considered to be a nuisance from Texas to Florida because of their tendency to root for food and destroy agricultural crops.
"I learned that invasive species are not always a bad thing," said Steger who regularly hunts feral hogs on managed land.
Even the much reviled kudzu plant has antioxidant properties and in Japanese cuisine, kudzu powder is used as a thickening agent.
The span of dishes prepared by the students reflects a trend in the world of haute cuisine that sees invasive species encroaching on another peculiar habitat: fine-dining restaurants.
Some chefs have started introducing menu items that feature invasive species, such as lime-cured Asian carp ceviche or fried coconut-fried Lion Fish. The point of dishes like these is to raise awareness of sustainability issues and make consumers aware that food resources are finite — and that eating invasives can be tasty and nutritious.
According to the Institute of Applied Ecology, invasive species cost the U.S. over $120 billion annually, and more than $1.4 trillion worldwide, with the annual cost of impact and control efforts equaling five percent of the world's economy. Their website appliedecology.org, touts the motto, "eradication by mastication," and features a cookbook called, "They're Cooked: Recipes to Combat Invasive Species."
Among plant pathologists there is still a debate about how and when to categorize something as invasive because until the longevity of a species can be documented, it's difficult to tell whether it is coming or going.
Back in the classroom, graduate student Steve Haring's nondairy poppy seed ice cream with burnt honey was going fast among his classmates.
"My first batch was pretty icy," said the plant pathology, physiology, and weed science major from Arlington, Virginia, "so I added poppy seeds."
His ice cream was made from hemp milk, poppy seeds, and Buckthorn honey, which comes from bees feeding off of the weed that is toxic to animals.
But his dish was far from toxic. He took home first place for the most creative dish in the class and earned ten percent extra credit on his final exam. The most delicious dish award went to Logan Holland, of Franktown, Virginia, a senior majoring in crop and soil environmental sciences, who made caribou sausage. 
Is it ever possible to erase invasive species through culinary endeavors? Not likely, says Barney. Invasive species are here to stay no matter how much you pile on your plate.
His students, however, have made a delicious dent.
Written by Amy Loeffler