Category:
academics
Program allows for immersive European experience for University Honors students
From a warehouse with five million pounds of cheese in Cremona, Italy, to a tour of the European Organization for Nuclear Research in Meyrin, Switzerland, to a hike at Mount Vesuvius in Naples, Italy, students who participate in the Presidential Global Scholars program at Virginia Tech experience a wide range of sites, sounds, and experiences.
In four years, more than 100 University Honors students have enrolled in the program, spending a spring semester based in the Steger Center for International Scholarship in Riva San Vitale, Switzerland. The group takes trips together throughout Europe, with students using free time to explore other destinations.
This past spring, 23 students representing a wide variety of majors and colleges participated in the program.
"Out of the 23 of us that went, there were 23 completely different experiences. Everyone had a different major, a different goal in life, a different background, a different story," said Nancy Sloan of Chesterfield, Virginia, a junior majoring in engineering science and mechanics in the College of Engineering. "It's hard to name one takeaway from this trip, but I think mine would be the reminder that everyone is walking a different path and has a different story; it's important that we take the time to get to know it."
Students explored those differences with the help of award-winning faculty from Virginia Tech.
"We had classes to attend early in the morning, but they weren't quite like a traditional classroom setting wherein there are students who listen and a teacher who talks," said Jay Jyotindra Pandya of Sterling, Virginia, a senior majoring in mathematics in the College of Science. "There were discussions, and debates, and persuading arguments. These weren't practiced to further some curricular goals, but to help us explore ourselves."
"The trip really instilled in me a sense of adventure and curiosity that I don't think is possible to gain in the classroom," said Seth Lowe of Grundy, Virginia, who graduated in May with degrees in biological sciences and psychology in the College of Science. "For instance, Drs. Trudy Harrington Becker and her husband Andrew Becker came over and lectured on the impact of Roman civilization on the world. It's one thing to hear that in Blacksburg, but it's really awe-inspiring to walk through millennia-old street created by the Romans, or travel to Naples and hike Mount Vesuvius and see the ruined town Pompeii."
For many of this year's participants, the biggest takeaway was not the lessons or scenery, but the relationships built and self-discovery. 
"I saw so many beautiful places, learned some Italian, ate unbelievably delicious food, and navigated Europe despite some language barriers," said Laura Copan of Williamsburg, Virginia, a senior majoring in English in the College of Liberal Arts and Human Sciences. "But the two biggest takeaways for me are, one, finding joy in getting to know people and having honest, meaningful relationships with them, and two, taking control of my life: figuring out what's important to me and planning the important things, but leaving room for spontaneity, and realizing that life is a balance between independence and interdependence."
For Samuel Withers of Asheville, North Carolina, a junior majoring in biological systems engineering in the College of Engineering, enrolling in the program meant he would have to extend his time on campus to five years, a decision he weighed with his advisors and parents, but ultimately, decided was worth doing. 
"As I was deciding whether or not to go, a professor lectured about Leonardo da Vinci mixing the arts with the math and science and you need creativity to be a good engineer. Right after that class, I decided I was going to do it," Withers said. Through the experience, Withers learned "that it's really important to have different viewpoints and sets of knowledge and work together to create a better solution for a bigger group of people."
The application process for the fifth cohort is still open. Interested students are encouraged to apply. Participants will take a one-credit pre-travel colloquia in the fall, with the program taking place in spring 2016.
"A lot of students think they can't make study abroad happen because it won't fit in their four-year program or they don't have the money," said Sloan. "There are scholarships and it is possible to still graduate on time. Talk to your academic advisor as well as Patrick Tunno with the Presidential Global Scholars program. They will help you if you are seriously interested."
For more information, visit the University Honors website or contact Patrick Tunno, the program's coordinator.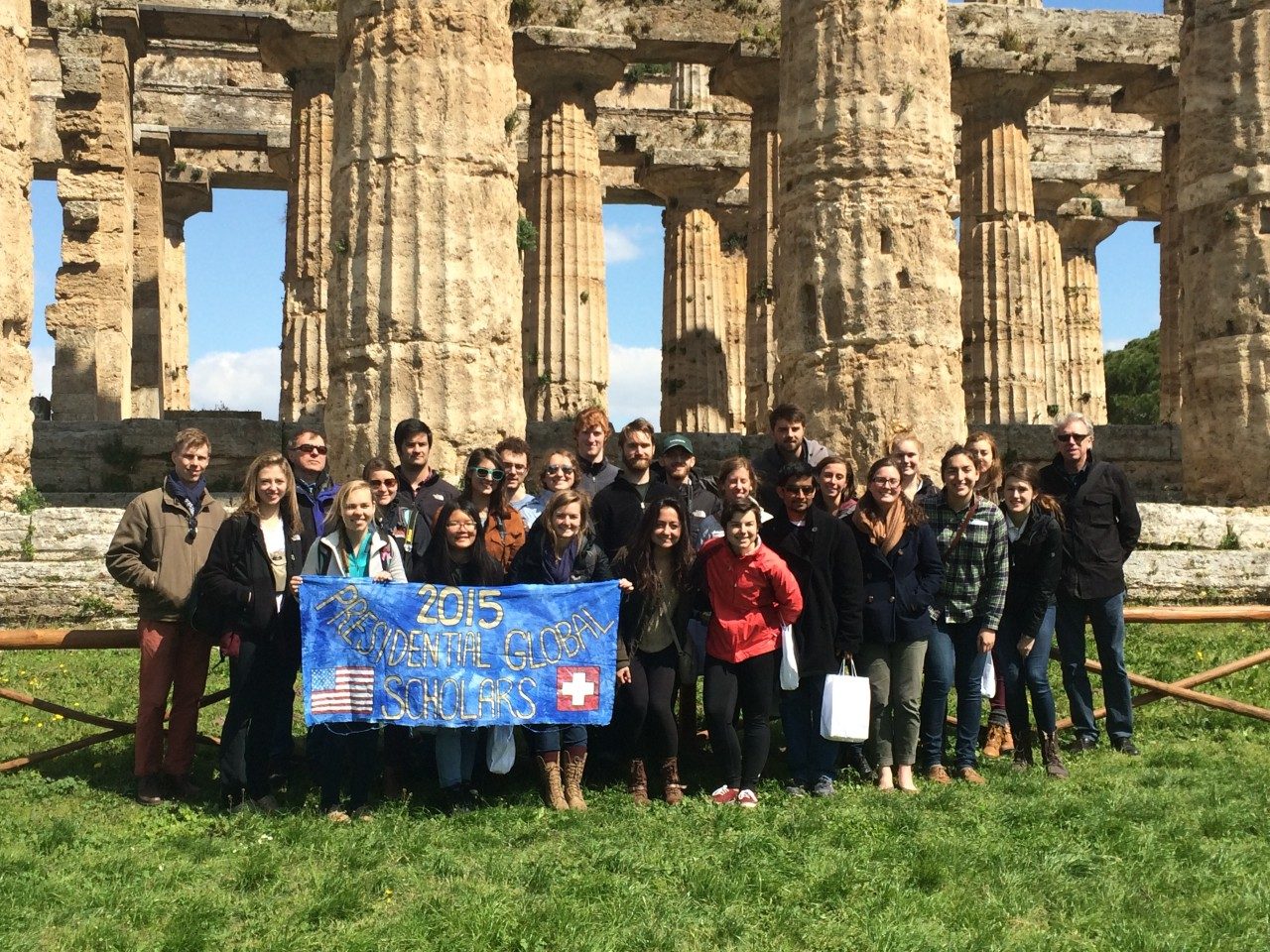 2015 Presidential Global Scholars
The group of University Honors students and faculty were based in Riva San Vitale, Switzerland for the spring 2015 semester, but traveled to a variety of places including Paestum in Campania, Italy.