In a brief ceremony held during Saturday's Spring Game at Lane Stadium, Virginia Tech honored its 2014 Family of the Year.
That distinction was given to Alan and Faith Hicks, their daughters Amanda Clements and Heather Hicks of Crofton, Md., a sophomore majoring in civil engineering in the College of Engineering, and their nominator Mikayla Meyer of Aurora, Colo., a sophomore majoring in political science in the College of Liberal Arts and Human Sciences.
The presentation of the award was part of this year's annual Spring Family Weekend.
In her nomination letter, Meyer said that Alan and Faith Hicks have accepted her into their family and provided the support and compassion she needed to pursue her dreams. 
"It is almost impossible to define what kindness from other people feels like, and even harder to describe how that has not only shaped your whole life, but your whole future," she said.
"The biggest thing that I brought into college from my past was my fear to succeed," Meyer continued. "I always felt inadequate; I never felt smart enough to even let myself consider my future. I hadn't found a major that I loved or frankly even cared about so I had decided to stick with a major I knew I could do, just to get to graduation.
"One day this all changed when Mr. Alan and Mrs. Faith were in town for family weekend," Meyer said. "Through their daughters' and their constant uplifting remarks about me, I allowed my mind to expand and think about different career paths that I could be following. Their family has made me feel like I can overcome anything, and the best part is, I feel like I never have to go the road alone."
Meyer is planning to go to law school and would like to practice family law. 
"That one decision changed my entire life, but I never would have made that decision if I hadn't had felt so supported by the people around me," she said. "Mr. Alan and Mrs. Faith changed my educational path here at Virginia Tech and have made my experience so much better. I have never met people that are so kind and genuinely want me to succeed. I have never felt so accepted in my life, and will work for the rest of my life trying to pay forward the love and kindness that I received from them. I will never have enough words to describe all the acts of kindness this family has done for me."
Virginia Tech's Family of the Year Award recognizes the people who are so important to students -- as mentors, collaborators, friends, advocates, and guides. The award honors a parent, family member, family, or extended family of a current Virginia Tech student who has made a significant impact on the student's college success.
Dedicated to its motto, Ut Prosim (That I May Serve), Virginia Tech takes a hands-on, engaging approach to education, preparing scholars to be leaders in their fields and communities. As the commonwealth's most comprehensive university and its leading research institution, Virginia Tech offers 240 undergraduate and graduate degree programs to more than 31,000 students and manages a research portfolio of $513 million. The university fulfills its land-grant mission of transforming knowledge to practice through technological leadership and by fueling economic growth and job creation locally, regionally, and across Virginia.
Written by Brooke Williams of Christiansburg, Va., a sophomore double-majoring in English and communication in the College of Liberal Arts and Human Sciences.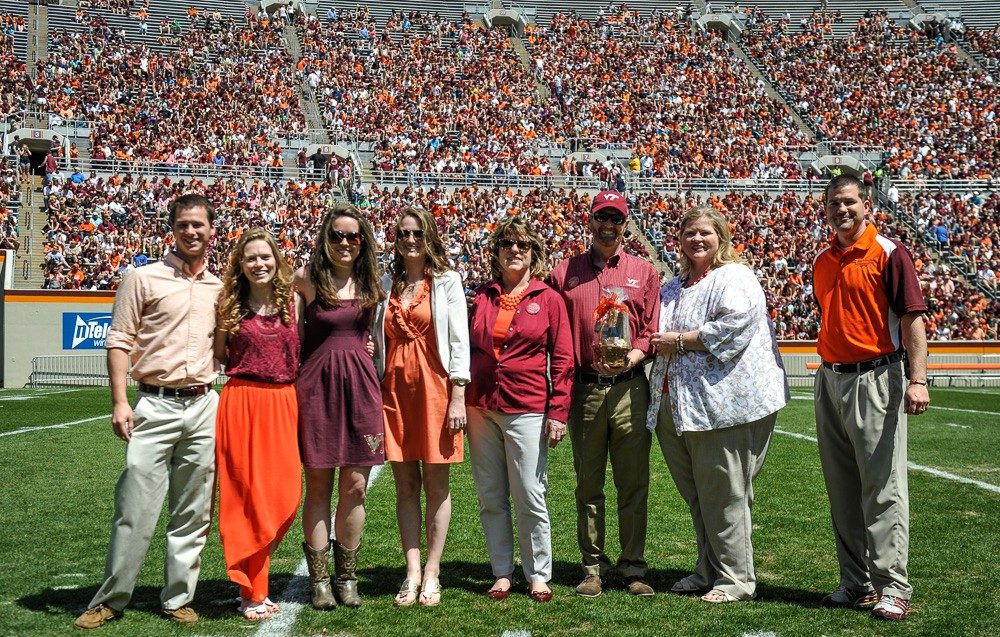 Virginia Tech Family of the Year
Thomas Clements; Heather Hicks; Mikayla Meyer; Amanda Clements; Faith Hicks; Alan Hicks; Patty Perillo, vice president of Student Affairs; and Rick Sparks, associate dean, New Student and Family Programs