Dr. Gerhardt G. Schurig, professor of biomedical sciences and pathobiology and former dean of the Virginia-Maryland Regional College of Veterinary Medicine at Virginia Tech, and the husband and wife team of Kirk and Noel Schulz will deliver the keynote addresses at Virginia Tech's 2013 fall University and Graduate School Commencement ceremonies to be held Friday, Dec. 20.
Schurig, who stepped down as dean of the veterinary college this fall after having served nine years in that role, will speak to the undergraduate students at the University Ceremony which begins at 11 a.m.
Kirk and Noel Schulz, two Virginia Tech alumni who have gone on to become the president of Kansas State University (Kirk Schulz) and the College of Engineering Associate Dean for Research and Graduate Programs and Paslay Professor of Electrical and Computer Engineering at Kansas State (Noel Schulz), will speak together during the Graduate School Ceremony which begins at 3 p.m.
Last year, the Schulzes had accepted an invitation to deliver the fall Graduate School address but were unable to do so because inclement weather prevented them from traveling to Blacksburg.
Both ceremonies will be held at Cassell Coliseum. Approximately 2,500 students will be honored for completing their academic degrees at the end of the summer and fall terms at the two events.
Those seeking more information on the ceremonies should visit the Virginia Tech Commencement website.
University Commencement Speaker: Dr. Gerhardt G. Schurig
Schurig first joined the veterinary college faculty in 1978. A professor and veterinary immunologist, he is considered one of the world's leading brucellosis researchers and is internationally renowned for his work in developing vaccines against bovine brucellosis, a zoonotic disease that causes reproductive problems in cattle and undulant fever in humans
Before serving as dean, he was the college's associate dean for research and graduate studies, the director of Virginia Tech's Institute for Biomedical and Public Health Sciences, and was a senior researcher and director of the Center for Molecular Medicine and Infectious Diseases.
During his seven-year tenure as head of that center, it established itself as a major research and development center focused on creating vaccines and improved diagnostic tests for several economically significant animal diseases.
A native of Santiago, Chile, Schurig earned his D.V.M. degree in 1970 from the University of Chile. After receiving a master's degree and Ph.D. in immunology from Cornell University, he spent two years working in the Department of Veterinary Science at the University of Wisconsin at Madison.
He then joined the Virginia Tech faculty and began a research career that culminated with the invention of the RB-51 vaccine, the global "gold standard" in bovine brucellosis control that played a major role in the virtual eradication of the cattle disease in the United States.
Schurig is a member of numerous professional societies, including the American Association for the Advancement of Science, the American Association of Veterinary Immunologists, and the American Society for Microbiology. He served as 2011-12 president of the Association of American Veterinary Medical Colleges and was inducted into the prestigious Spanish Real Academia de Ciencias Veterinarias in 2008.  
He has received several major teaching and research awards, including the Beecham Award for Research Excellence, the Zoetis Award for Research Excellence, and the Distinguished Service to Agriculture Award from the Virginia Farm Bureau.
He has published more than 100 research articles in peer reviewed journals and has made more than 170 presentations at national and international conferences.
Graduate Commencement Speakers: Kirk H. and Noel Schulz
Kirk H. Schulz is the 13th president of Kansas State University, an internationally recognized land-grant university with three campuses and an enrollment exceeding 24,000 students.
Born in Portsmouth, Va., Kirk Schulz grew up in Norfolk and attended Old Dominion University before transferring to Virginia Tech, where he received his bachelor's degree and Ph.D., both in chemical engineering in 1986 and 1991, respectively.
Shortly after his arrival at Kansas State in 2009, Kirk Schulz implemented the K-State 2025 visionary planning initiative that seeks to place the school among the top 50 public research universities by the year 2025. Since his appointment, he has led the way for increased enrollment, increased private giving, and the establishment of a new campus and graduate degree program in Olathe, Kan.
Prior to his appointment at Kansas State, Kirk Schulz was vice president for research and economic development at Mississippi State University. He also has served on the faculty at Michigan Technological University and the University of North Dakota.
Kirk Schulz is active in the American Institute for Chemical Engineers and the American Society for Engineering Education. In recognition of achievements in the field of chemical engineering, he was selected as a Fellow in both the American Society of Engineering Education and the American Association for the Advancement of Science. Other professional honors include membership in the Golden Key International Honor Society, the Tau Beta Pi Honorary Engineering Society, and the Omega Chi Epsilon Honorary Chemical Engineering Society. He also received a National Science Foundation CAREER Award in 1995.
Kirk Schulz was named Virginia Tech Outstanding Young Alumnus in 2000 and received the university's Graduate Alumni Achievement Award in 2011. He attained the rank of Eagle Scout in 1977 and continues to play an active role in the Boy Scouts of America.
Noel Schulz is president of IEEE Power and Energy Society, the world's largest professional association for the advancement of technology. She is also the College of Engineering Associate Dean for Research and Graduate Programs and Paslay Professor of Electrical and Computer Engineering at Kansas State.
She received her bachelor's degree and master's degree in electrical engineering from Virginia Tech in 1988 and 1990, respectively, and her Ph.D. in electrical engineering from the University of Minnesota in 1995.
Noel Schulz joined the Kansas State faculty in 2009 and was named associate dean in 2012. Before joining Kansas State, she spent eight years at Mississippi State University where she was the TVA Professor in Power Systems Engineering.
In addition to more than 19 years teaching experience, Noel Schulz is active in research and outreach. She has graduated 42 master's degree and 12 Ph.D. students; published 160 papers and two book chapters; and brought in more than $10 million in external research through individual and collaborative projects, including a National Science Foundation CAREER award. Her research interests are in the computer applications in power systems, including power system operations, shipboard power systems, and intelligent system applications.
In addition to serving as president, Noel Schulz has held other offices in the IEEE Power and Energy Society, including secretary, treasurer, and president-elect. She is a member of Eta Kappa Nu Electrical Engineering Honorary Society, Tau Beta Pi Engineering Honor Society, American Society for Engineering Education (ASEE), the Society of Women Engineers, and the National Society of Black Engineers. She served on the Board of Directors for ASEE from 2008 to 2010.
Sherrie Whaley contributed to this story.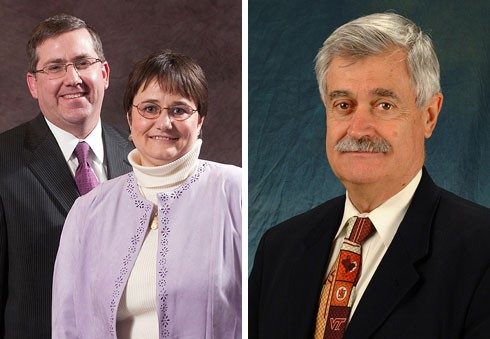 Kirk Schultz, Noel Schulz, and Dr. Gerhardt Schurig
Kirk Schultz, Noel Schulz, and Dr. Gerhardt Schurig