Category:
impact
Virginia Tech strengthens ties to business, industry in Arlington
At the Virginia Tech Research Center – Arlington, 10 Virginia Tech institutes and centers share space in a seven-story, LEED-certified green building that opened just more than a year ago. The center's research and outreach efforts are beginning to command recognition in the greater Washington, D.C., area, according to Don Leo, vice president and executive director for National Capital Region Operations.
"Arlington's proximity to legislators, the National Science Foundation, other leading federal research agencies, and foreign embassies is helping Virginia Tech reach out to the community and create collaborations," Leo says.
Building on its research strengths, Virginia Tech's ties to industry in the greater Washington, D.C., area are growing stronger through the efforts of the Office of Economic Development. Afroze Mohammed, associate director of strategic alliances, joined the university in December 2011 to build relationships with companies and the community.
Mohammed's goal is to leverage the university's research in such areas as cybersecurity, energy, robotics, and wireless technologies to benefit organizations in the region. The university is collaborating with several partners, including the Northern Virginia Technology Council as well as the Virginia Tech Science and Engineering Regional Growth Enterprise, an executive group that advises Virginia Tech on its engagement with industry.
Virginia Tech has several research institutes and centers with a major presence in Arlington.
Advanced Research Institute
Arlington Innovation Center: Health Research
Center for Geospatial Information Technology
Computational Bioinformatics and Bio-imaging Laboratory
Institute for Science, Culture, and Environment
Hume Center
Institute for Critical Technology and Applied Science
Virginia Bioinformatics Institute
Virginia Tech Applied Research Corporation
The Hume Center, where faculty and students address the national security community's critical needs, is a case in point. The center's newly launched collaboration with L-3 Communications, outlined on page 22 of the fall 2012 Impact magazine, will provide the defense contractor access to the university's labs and equipment while joint research takes place with Virginia Tech faculty and staff.
Also at the Virginia Tech Research Center – Arlington, high-profile faculty members include Yue "Joseph" Wang, the Grant A. Dove Professor of Electrical and Computer Engineering and director of the Computational Bioinformatics and Bio-imaging Laboratory.
Wang describes the sort of research students might tackle: "Our research has evolved from comprehensive characterization of gene and protein expression patterns to the computational theory of systems biology and to advanced imaging and image analysis. We are striving for scientific discoveries while pursuing engineering innovations for the molecular analysis of human diseases."  
Virginia Tech research in the greater Washington, D.C., area extends beyond Arlington to centers in Falls Church and Alexandria. Water research is conducted in Manassas and equine research in Leesburg and Middleburg.
In Arlington, "My goal is to have the center reflect the strengths of research throughout the region and have it connected to all of Virginia Tech, regardless of where a particular building, faculty, or student is physically located," Leo says.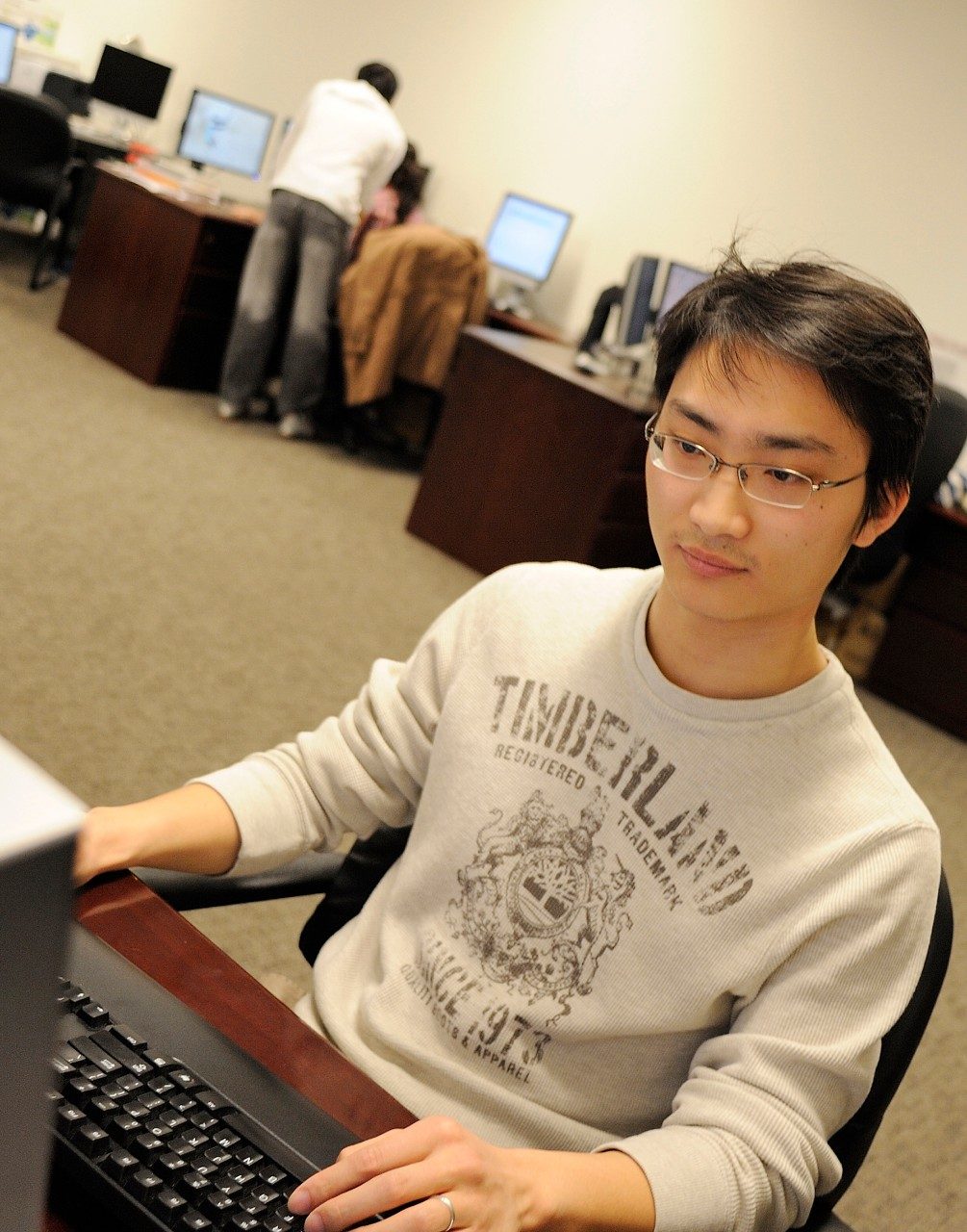 Grad students in Wang's Arlington computer lab
Graduate students in Yue "Joseph" Wang's lab apply bioinformatics to health issues.